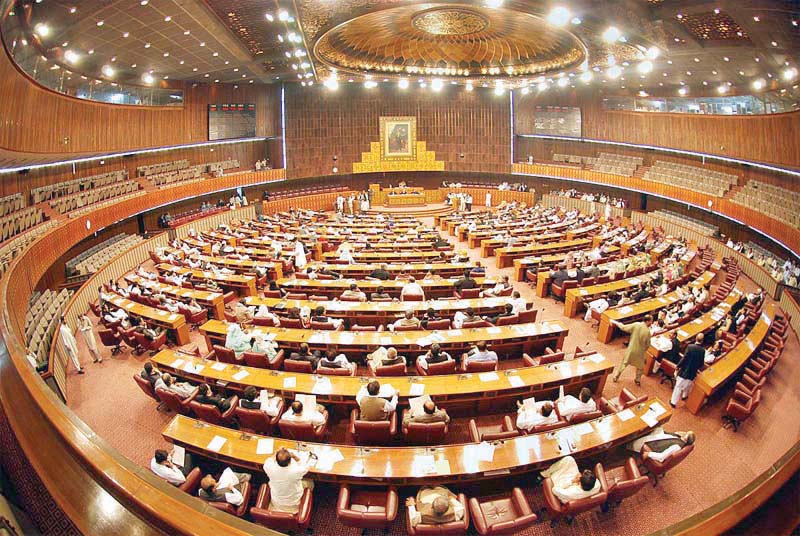 ---
ISLAMABAD:
The National Assembly session on Friday had to be adjourned merely after a 35-minutes sitting owing to lack of quorum.
The house met with Speaker Asad Qaiser in the chair. During the sitting, the house took up the calling attention notice mover by Dr Haider regarding non-allocation of additional 3% share in the National Finance Commission Award (NFC) Award for the erstwhile Federally-Administered Tribal Areas (Fata).
responding to the notice, Parliamentary Finance Secretary Zain Hussain Qureshi informed the house that the federal government had so far given Rs270 billion funds for the development of erstwhile Fata. "Rs97.6 billion has been released in 2019-20 while Rs121.1 billion in 2020-21," he said.
During the current fiscal year, Qureshi said the government had allocated Rs129.7 billion, out of which about Rs51.5 billion had already been released for the uplift of the areas. He added that Rs129.7 billion funds for the current financial year amounted to 4% of funds from the divisible pool.
Read More: NFC Award and K-P woes
Qureshi said that NFC had formed a sub-group under the Khyber Pakhtunkhwa finance minister which was looking into the matter. Later, the chair referred the matter to the relevant standing committee for further deliberations.
Opposition member Syed Hussain Tariq tried to speak but the Speaker did not allow him. On that, Tariq pointed out the lack of quorum. The quorum was found incomplete; therefore, the house was adjourned to meet again on Monday evening.
The house did not consider the legislative agenda, including two ordinances and a government bill. Moreover, five motions for consideration of as many bills in the joint sitting of parliament, a calling attention notice and a motion of thanks to the president remained unaddressed.
COMMENTS
Comments are moderated and generally will be posted if they are on-topic and not abusive.
For more information, please see our Comments FAQ