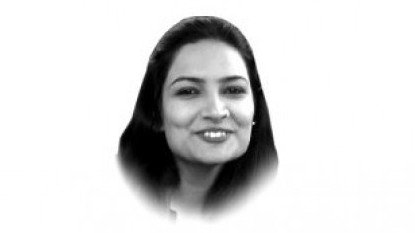 ---
Something really sad happened last week: Akbar Ali poisoned himself, his wife and three of his six children because of poverty. The man and his daughters are dead, while the wife is still alive.  Only God knows what he must be thinking before he decided to take the toxic pills and leave his younger children to suffer alone. But this is something we will never know. Akbar was a worker at a garment hosiery factory and lost his job because the factory closed due to the current energy crisis. His problems compounded because he had a large family to support.

This is not the first poverty related suicide in the country and it won't be the last. Berating the government for rising poverty will not make much difference unless it is backed by some serious thinking and action to tackle the issue. Akbar and his family would have been alive if he had a smaller family.

The biggest threat to Pakistan is neither its hostile neighbour, nor an international Zionist conspiracy. Rather, it is the country's rising population. Pakistan's population grew exponentially — from 33 million in 1947 to over 180 million in 2009. With over three million Pakistanis born every year, Pakistan is the second largest contributor to the world population after India. The total fertility at 4.0 is highest in the region as women in Pakistan have more children than its neighbours.

Although Pakistan initiated its first population control programme in the 1950s, it has not achieved much since then. There is minimal impact on use of contraceptives (only 23.9 per cent) and fertility has not reduced dramatically like it has in Bangladesh and Iran, although they started their family planning programmes in the 1970s and 1980s, respectively.

One of the reasons for the failure of family planning programmes in Pakistan is the administrative structure. Family planning is curiously separate from the health ministry and while it comes under the federal government, health is a provincial subject which completely de-links the two. Amalgamation of family planning in health is integral to achieve any success. Provision of all health services should be linked with family planning. The government needs to be pro-active in teaching young people about family planning and sternly deal with populist politicians who try to derail any such educational efforts.

A coherent approach is needed to combat the social and cultural stigma attached to it and it should be combined with effective service delivery in all parts of the country. Running adverts on TV is useless if the information provided on ground is ineffective and outreach activities are non-existent. To date, the biggest reason for the failure of the programme has been the lackadaisical attitude of successive government's and lack of political commitment. Unless that is altered, change will remain elusive.

Forty per cent of Pakistan's population lives below the poverty line and it can no longer ignore the fact that small families can help in coping with poverty more effectively. The government needs to realise and impart this message to others that low birth rates are needed to create national and personal wealth. Problems of high unemployment, increasing poverty, floundering education system, crises of food, water and energy will be exacerbated if we continue to add more and more people. If the population growth is not checked on priority basis, the country will be undone by the sheer number of its own people.

Published in The Express Tribune, June 24th, 2010.
COMMENTS (14)
Comments are moderated and generally will be posted if they are on-topic and not abusive.
For more information, please see our Comments FAQ