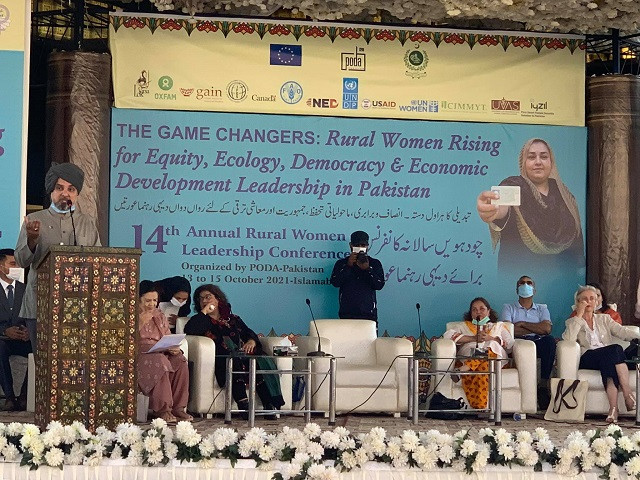 ---
ISLAMABAD:
Rural women are the backbone of the agriculture sector, therefore, the government should invest in gender responsive policies to mitigate and adapt to climate change, which has a disproportionate impact on the livelihood of rural women.
This was the crux of the view expressed by speakers at the inauguration session of the 14th Annual Rural Conference started on Wednesday. The three-day event was organised by PODA-Pakistan at Lok Virsa.
The moot will conclude on Friday (tomorrow) on presentation of a comprehensive document to encompass a wide range of resolutions emerged during the three days of the conference proceedings. The resolutions will be adopted after getting approval by the rural women's leadership platform based on consensus.
The conference theme is: "The Game Changers: Rural Women Rising for Equity, Ecology, Democracy and Economic Development Leadership in Pakistan." The conference is a hallmark of PODA-Pakistan to celebrate International Rural Women Day on Octo bet 15 (tomorrow) every year since 2008.
Rural women leaders representing 100 plus districts of the country would be attending the conference for three consecutive days. On Wednesday, over 300 women and men attended the moot.
Read Rural areas: Doing SDGs WISEly
PODA-Pakistan Founder and President Sameena Nazir said that in the COVID-19 scenario, rural women leaders who are the game changers are in the capital to bring the issues and challenges they have faced in the spotlight to provide an evidence to the policymakers, parliamentarians, top government officials, educationists and activists to devise a roadmap based on the insightfulness of rural women leaders.
"Rural women are the agents of change to secure food for all," she added.
The Food and Agriculture Organisation (FOA) Representative in Pakistan said Florence Rolle said, "This year on International Day of Rural Women, we are focusing on rural women leadership and the vital role that rural women and girls play in climate action and building resilience. As the world faces an increasingly critical need to address climate change, the important impact that rural women and girls have on building resilience is undeniable."
FAO Representative Pakistan said: "Patriarchal tendencies limit women's rights to inheritance, assets, services and job markets. Illiteracy is high among women and girls. In rural areas, only 22 percent of girls above 10 years of age have completed primary schooling compared to 47 percent of boys. Yet women have an important role in the household economy and caring for their families.
Published in The Express Tribune, October 14th, 2021.
COMMENTS
Comments are moderated and generally will be posted if they are on-topic and not abusive.
For more information, please see our Comments FAQ