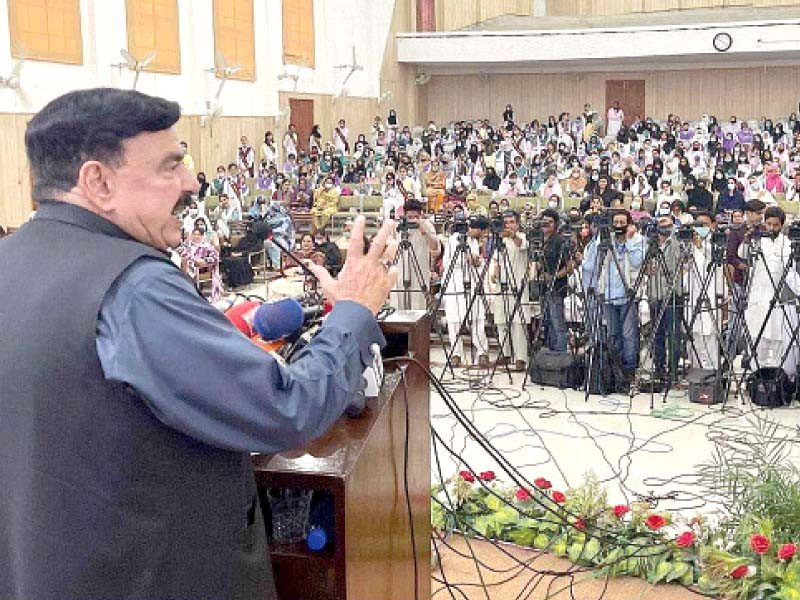 ---
RAWALPINDI:
Interior Minister Sheikh Rashid inaugurated a postgraduate (PG) block in the Rawalpindi Women University, Sixth Road, on Friday.
Addressing the participants, the minister said that the block has been constructed at a cost of Rs130 million. A hostel will accommodate nearly 1,000 female students was constructed at a cost of Rs400 million, he added.
He hoped that during this month, the target of 60 educational institutions would be completed as seven colleges have been completed and third Women University is going to be inaugurated this month.
The minister shared that Waqar-un-Nisa College has been upgraded and will be inaugurated by Punjab Chief Minister Sardar Usman Buzdar later this month. "We are trying to establish an Information Technology University in the city." 'Bahbood' school has been handed over to the authorities concerned to establish an Inter College and another woman's college to be set up at Murree Road, he added.
Rawalpindi is at the top position in female education across the country, he said. "We tried to provide education facilities at the doorsteps of the female students. After completing the educational institutions' task, we would move towards health sector," he added.
Read Funds approved for Women University Swabi
"When the actual educational institutions plan was conceived for promotion of education in Rawalpindi city then I selected Dhokes like Dhoke Hassu, Dhoke Khabba, Dhoke Ratta, Dhoke Naju, Dhoke Elahi Bukish for establishment of schools and colleges as the citizens of labour class live in these Dhokes and cannot afford private educational expenses. Today, in just one Dhoke Hassu school and college, nearly 5,000 female students are registered and getting education. In the most deprived area of the town, 25 scholarships were given to talented female students so that the girls of poor families could continue their education.
"We utilised all available resources to establish schools and colleges in the city. All possible facilities were provided to the students in schools and colleges," he said.
The women university on Sixth Road took three years to upgrade and made a university and Waqar un Nisa College, which is going to be upgraded within 8 to 10 days, he added.
A few days back, 'Behbood' a non-functional institution, was handed over to the authorities concerned and upgraded as Inter College for female. College classes would begin from next month, he added.
"I had fixed a target of 60 educational institutions for the city. I am striving for establishment of an IT University," he shared.
"No one can defeat the girls of Rawalpindi city as they are educated. A daughter of a rickshaw driver had secured a top position in CSS from Rawalpindi city, he said. Because of earnest efforts, Fatima Jinnah Women University was established at a cost of Rs10 million.
A large number of students, faculty members attended the ceremony.
Published in The Express Tribune, October 9th, 2021.
COMMENTS
Comments are moderated and generally will be posted if they are on-topic and not abusive.
For more information, please see our Comments FAQ