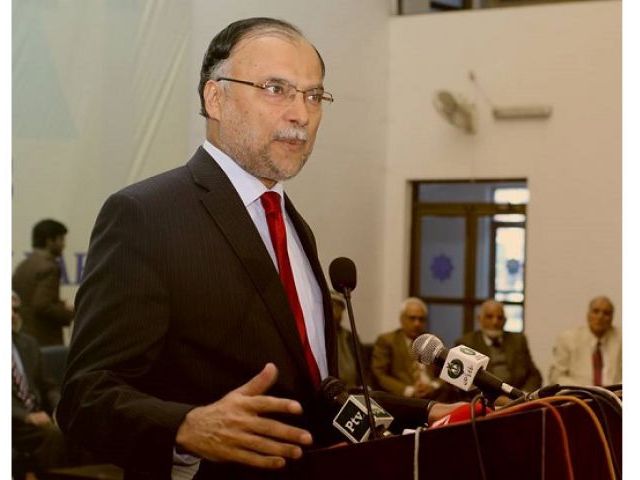 ---
ISLAMABAD:
Former federal minister Ahsan Iqbal, a member of the National Assembly's Standing Committee on Planning and Development, on Thursday demanded that the government should convene a meeting of the National Economic Council (NEC) to consider the "inequalities" in development in the country.
During a meeting of the committee presided over by its chairman Junaid Akbar, the PML-N leader questioned the officials of the National Highway Authority (NHA) that the current government had accused the body of carrying out costly projects in the past.
"Why has your minister [Asad Umar] claimed that roads were built at expensive cost in the past and now were being built at cheaper rates?"
However, the NHA officials did not respond to his query.
The NHA officials briefed the committee that Jaglot- Skardu Road was 164km long and its construction was difficult. However, it would be completed by the end of November.
Read BOI pitches three key projects
The chairman of the committee asked them as to why did they not resolve land disputes before the construction of a project.
The NHA officials responded that there were difficulties in obtaining land for construction of the road only in Khalsa Sarkar lands.
They added that the contractor had been told to construct roadside walls.
Around 65km of stone walls had already been built and 70km of concrete walls were yet to be constructed.
The chairman noted that concrete walls were originally planned in the PC-1of the project.
"Whoever prepared the PC-1 would have taken money at that time," he added.
The NHA officials said the PC-1 had stone walls and the contractor used concrete. They added that the contractor had been paid for the stone walls only.
During the meeting, Agha Rafiullah, a member of the committee, claimed that only development work of the government and its allies was under way.
Read more Work on two vital road projects completed
"We are fed up with this. Let us know where the annual development funds are being spent."
Parliamentary Secretary on Water Resources Saleh Mohammad Khan lashed out against his own government.
He said when Ahsan Iqbal was a minister, the planning ministry would approach him in 15 days only.
"In the past, our plan was once included in the Public Sector Development Programme (PSDP) on request. Today, we are tired of going round the ministries. The lawmakers are being humiliated."
Agha Rafiullah later walked out of the meeting in protest.
It was also revealed during the meeting that the cost of the Diamer-Bhasha Dam had been revised upward by Rs180 billion.
Ahsan said that the estimated cost of the dam was Rs480 billion.
"What is the revised cost of the dam now?"
The officials of the Water and Power Development Authority (WAPDA) replied that the revised cost of dam was Rs653 billion because of the exchange rate and inflation.
COMMENTS
Comments are moderated and generally will be posted if they are on-topic and not abusive.
For more information, please see our Comments FAQ