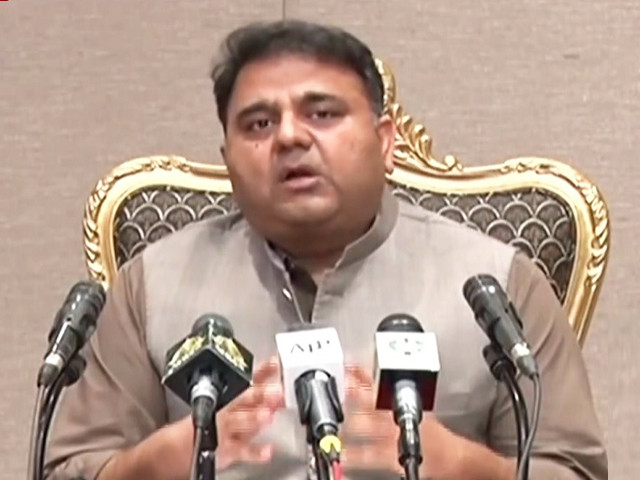 ---
Prime Minister Imran Khan has set up a high-level commission to probe Pakistanis named in leaked financial documents dubbed 'Pandora Papers', Information Minister Fawad Chaudhry said on Monday.
"The high-level cell under the Prime Minister's Inspection Commission will investigate all individuals mentioned in the Pandora Papers and will present facts before the nation," the minister wrote on his official Twitter handle.
پنڈورا لیکس کی تحقیقات کیلئے وزیر اعظم پاکستان نے وزیر اعظم انسپکشن کمیشن کے تحت ایک اعلیٰ سطحی سیل قائم کیا ہے یہ سیل پنڈورا لیکس میں شامل تمام افراد سے جواب طلبی کرے گا اور حقائق قوم کے سامنے رکھیں جائینگے #PandoraLeaks

— Ch Fawad Hussain (@fawadchaudhry) October 4, 2021
The development comes a day after the International Consortium of Investigative Journalists (ICIJ) opened Pandora's box – a massive trove of private financial records – Sunday night naming national and international personalities among 700 Pakistanis, including cabinet members, allegedly hiding financial secrets via offshore companies.
The ICIJ stated that key members of Prime Minister Imran's inner circle, including cabinet ministers, their families and major financial backers have secretly owned an array of companies and trusts holding millions of dollars of hidden wealth. The ICIJ said that military leaders have also been implicated but the "documents contain no suggestion that Khan himself owns offshore companies".
Also read: Pandora Papers undrape corrupt leaders
The information minister also expressed concern about the disclosure of names of media house owners in Pandora Papers.
"It is unfortunate that the names of the owners of all major media houses in Pakistan are included in Pandora leaks. The Ministry of Information is launching a transparent investigation into the matter and Pemra is being asked to respond," he tweeted.
بڑی بدقسمتی کی بات ہے کہ پاکستان کے تمام بڑے میڈیا ہاؤسز کے مالکان کا نام #PandoraLeaks میں شامل ہے اور کئ ایک پر منی لانڈرنگ کے الزامات لگتے رہے ہیں وزارت اطلاعات اس ضمن میں شفاف تحقیقات کا آغاز کر رہی ہے اور PEMRA کو جواب طلبی کیلئے کہا جا رہا ہے

— Ch Fawad Hussain (@fawadchaudhry) October 4, 2021
Meanwhile, Express News quoting sources reported that PM Imran earlier in the day chaired the meeting attended by federal ministers and party leaders to review the country's overall situation and discuss the matter of Pandora Papers.
Also read: PM vows action against those 'exposed' in new leaks
In the meeting, a committee comprising the Attorney General of Pakistan and federal ministers briefed the premier on the massive leaked financial documents.
Insiders told Express News that PM Imran had directed the authorities concerned to investigate the Pakistanis named in the leaked documents and added that those who plundered the national wealth deserved no concession.
Also read: Opposition urges PM Imran to remove ministers named in Pandora Papers
Earlier today, the opposition parties urged the premier to order cabinet ministers and aides named in leaked financial documents to resign from office and face investigation.
Pakistan Muslim League-Nawaz (PML-N) spokesperson Marriyum Aurangzeb told Reuters that PM Imran had to remove all of those identified in the files.
"Imran Khan is bound to direct all his ministers and aides named in Pandora leaks to resign with immediate effect," she added.
The Supreme Court sacked Nawaz Sharif as prime minister in 2017 on corruption charges after his family's London properties came to light in an earlier leak of documents known as the Panama Papers. Nawaz, who lives in self-exile, denied wrongdoing.
COMMENTS
Comments are moderated and generally will be posted if they are on-topic and not abusive.
For more information, please see our Comments FAQ