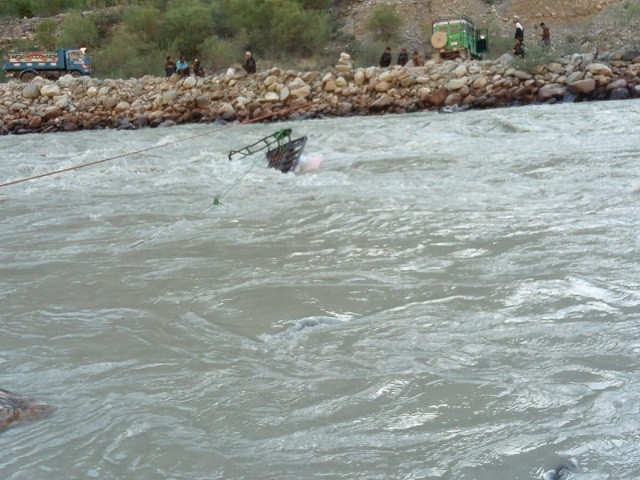 ---
OKARA:
A woman reportedly drowned in a canal while taking pictures with her husband in the city on Saturday.
According to Rescue 1122 In-charge Zafar Iqbal Chaudhry, Muhammad Nadeem and his wife Kaniz Bibi, residents of 393R, a suburban village, were taking photos with their mobile phone in Lower Bari Doab Canal when Kaniz slipped and fell into the canal.
The woman's husband jumped into the canal to rescue her. Passersby reported the incident to Rescue 1122.
Shortly afterwards, Rescue 1122 teams arrived on the scene and Nadeem was rescued 300 metres away from the incident site. However, the woman could not be found by the divers due to the rapid flow of water.
Rescue 1122 teams immediately launched a rescue operation to find Kaniz. According to Zafar Iqbal, Rescue 1122 divers were searching for Kaniz.
Nadeem told police the couple was on their way to the city when suddenly the motorcycle broke down.
Read Minor girl drowns in Nullah Leh
They parked the two-wheeler next to the mechanic to get it fixed and went to the nearby Lower Bari Doab to take photos. While the couple was taking selfies, his wife's foot slipped and they both fell into the canal. Nadeem stated he was saved by Rescue 1122 divers.
The diving and Rescue 1122 teams continued to search for Kaniz. According to the Rescue 1122 in-charge, the flow of water was very fast due to which the search had become difficult.
A Saddar police team also reached the spot. According to SHO Shaheen, the matter was being investigated to determine whether it was an accident or there was a motive behind the incident.
According to official data, two lives were lost daily on average in cases of drowning in Punjab.
Due to negligence of the citizens, the authorities, or both, at least 500 people lost lives due to drowning throughout Punjab in as many as 883 incidents reported so far this year.
Over four drowning emergencies were reported in the province daily during the period. The data showed at least one incident of drowning took place every week in every third district of Punjab.
Over 30 cases of drowning took place in 12 of the 36 districts of the province during the ongoing year.
In May last year, a man's body was found in the canal in the Nawab Town area, raising the provincial tally of deaths by drowning during the Eidul Fitr holidays to 30.
Published in The Express Tribune, October 3rd, 2021.
COMMENTS
Comments are moderated and generally will be posted if they are on-topic and not abusive.
For more information, please see our Comments FAQ