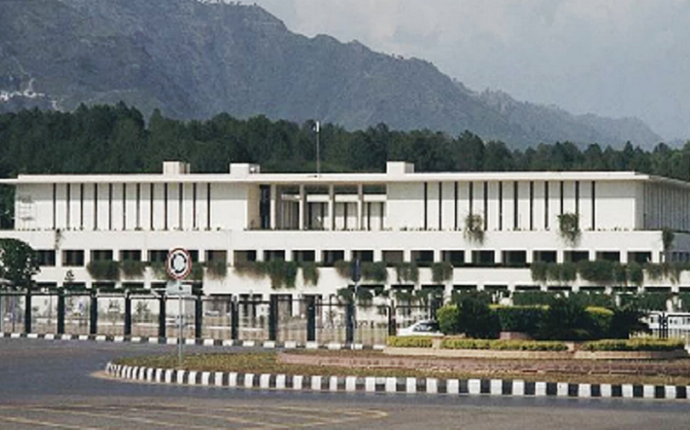 ---
ISLAMABAD:
The Central Selection Board (CSB) on Thursday completed its three-day process for the promotion of bureaucrats in BS-20 and BS-21 grades.
On the third day, the meeting recommended the promotion of nine DIGs to the rank of additional IG. It also proposed the promotion of 15 police officers to grade 20.
Ex-cadre cases were also considered in the last day meeting of the CSB.
The officers of the Federal Investigation Agency (FIA), ministries of defense production, defence, food security, housing and health; aviation division, joint director general and deputy director general of the Intelligence Bureau, petroleum policy wing director general, planning division, Federal Public Service Commission and Board of Investment were recommended for promotion.
Read Govt announces major institutional reforms for civil servants to boost performance
Central Public Service Commission Chairman Capt (retd) Zahid Saeed presided over the CSB meeting on the third day.
AIG Special Branch Punjab Zaeem Iqbal, Zulfiqar Hameed posted in Balochistan Constabulary, RPO Gwadar Akhtar Hayat, National School of Public Policy's Salman Chaudhry, Nacta DG Abdul Qadir Qayyum, DIG Kalatullah Bakhsh, DIG Motorway Police Wisal Fakhr Sultan, Federal Ombudsman Lahore DG Dr Usman Anwar and DIG Maqsood Al Hassan have been named for promotion to BS-21.
The CSB has also recommended Shoaib Akbar, Alia Shahid, Hassan Raza Saeed, Sabina Qureshi, Ali Asghar, Tahir Noor and Shahid Sindhu of the secretariat group for promotion to BS-21. The recommendations would be sent to the establishment division for final approval.
Last month, Prime Minister Imran Khan through a tweet had justified the delay in convening the meeting of the High-Powered Selection Board.
"Under Chairmanship of PM, a high-powered Board sits to decide promotions of bureaucrats from BPS 21 to 22. This Board mtg has been postponed for a couple of months bec I am scrutinising actual performance of these officers on the ground beyond routine performance assessments," he wrote.
In December 2019, the government had revised criterion for civil servants' promotion as it increased discretionary powers of the CSB for the promotion of senior civil servants to higher grades.
On December 3, it was reported that the Establishment Division had notified in the official gazette the Civil Servants Promotion (BPS-18 to BPS-21) Rules, 2019. According to the new rules, the CSB, which earlier had 15 out of total 100 marks, has now got 30 marks to its discretion. In addition to the CSB's 30 marks, 40 are reserved for ACRs and remaining 30 for professional courses.
Previously, there were 50 marks for ACRs, 35 for professional courses and 15 for CSB. The new rules set the minimum threshold of 60 marks for promotion in BS-18, 65 for BS-19, 70 for BS-20 and 75 for BS-21.
COMMENTS
Comments are moderated and generally will be posted if they are on-topic and not abusive.
For more information, please see our Comments FAQ