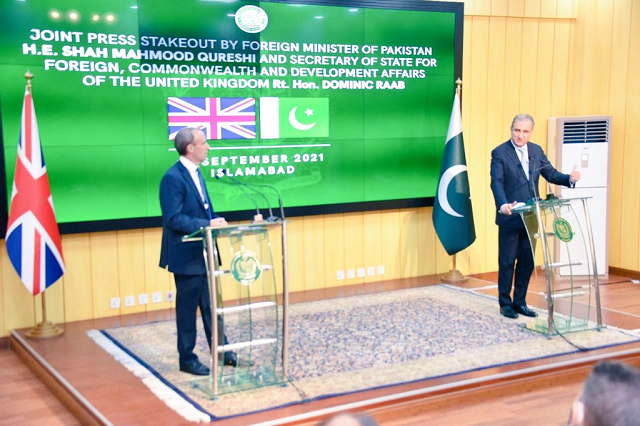 ---
ISLAMABAD:
Foreign Minister Makhdoom Shah Mehmood Qureshi on Sunday arrived in London on a three-day official visit to the United Kingdom.
Upon arrival at the Heathrow Airport, Pakistan's High Commissioner to the UK Moazzam Ahmad Khan and Deputy High Commissioner Dr Faisal Aziz and other senior officials of the High Commission welcomed the foreign minister.
"Besides interacting with members of the Pakistani community and British Parliamentarians, the Foreign Minister will have broad-based discussions with his British counterpart Liz Truss at the Foreign, Commonwealth and Development Office," the FO statement read. The foreign minister will also interact with the media.
The FO statement further termed Pakistan and the UK as close friends and long-standing partners.
"Earlier this month, former Foreign Secretary Dominic Raab had visited Pakistan to hold consultations on bilateral relations and regional matters. The visit by the Foreign Minister will take forward the process of close consultation and collaboration between the two sides," the communique concluded.
On September 3, the foreign ministers of Pakistan and the United Kingdom said that the two countries "shared interest" in a peaceful and stable Afghanistan.
Also read FM Qureshi welcomes UK's decision to remove Pakistan from red list
The statement came during the maiden visit by British Foreign Secretary Dominic Raab to Islamabad where he held formal talks with his Pakistani counterpart.
Qureshi had reiterated Pakistan's stance urging the world community to work with the Afghan Taliban, but the UK's top diplomat, who earlier undertook a visit to the Afghanistan-Pakistan border at Torkham, said his country "doesn't recognise the Taliban government".
"The approach we're taking is that we don't recognise the Taliban as a government," he said, adding that Britain normally recognised states rather than governments. "We do see the importance of being able to engage and having a direct line of communication."
The foreign minister had also highlighted Pakistan's tremendous progress in the implementation of the Financial Action Task Force's (FATF) Action Plan and hoped that no attempt to politicise this process would be allowed.
In the context of bilateral relations, it was agreed that the strong Pakistan-UK bilateral relations must be expanded further, especially in the economic and trade spheres. Raab said that the basis for the UK-Pakistan relationship was very strong and expressed the desire of his country to take it to the next level.
(With additional input from APP)
COMMENTS
Comments are moderated and generally will be posted if they are on-topic and not abusive.
For more information, please see our Comments FAQ