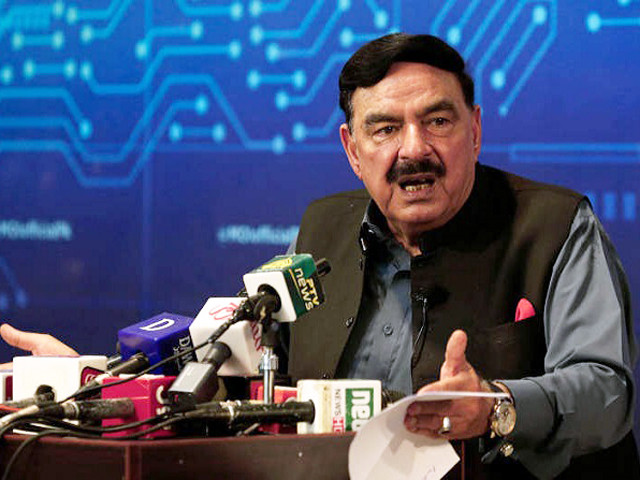 ---
Rashid warns of more restrictions on unvaccinated citizens
Interior minister says PM Imran's UNGA speech presented Afghanistan's case in 'the right context'
---
Interior Minister Sheikh Rashid on Saturday warned that the government would impose several restrictions on citizens who failed to receive their second dose of the anti-Covid vaccine by September 30.
In a statement, the interior minister appealed to the people to get vaccinated to protect themselves and the country from the Covid-19 pandemic. However, the interior minister did not specify the restrictions planned for such individuals.
The minister lauded the National Command and Operation Centre (NCOC) for its efforts to comabt coronavirus, saying the high-level forum was appreciated across the world.
In August, NCOC head Asad Umar had announced that Pakistan Railways would only allow vaccinated individuals to travel by train from October 1.
Furthermore, all local and international air travellers will be required to be fully vaccinated by the end of September or they would not be allowed to travel.
Meanwhile, from September 30, shopping malls, hotels, restaurants, and wedding venues will only be accessible to fully vaccinated people.
Appreciates Imran's UNGA speech
The minister also appreciated Prime Minister Imran Khan's address to the United Nations General Assembly (UNGA).
Read Pakistan urges world community not to isolate Afghan Taliban
He said Imran showed a "mirror to the world community with courage and reason" and the premier presented the Afghan issue in the right context before the global community.
Rashid said the prime minister's appeal to not abandon Afghanistan reflected "his humane aspect". He added that Imran also exposed the "fascist face of Modi's India" again.
The interior minister hoped the world community will "frame policies while taking guidance" from Prime Minister Imran's address to the UN General Assembly.