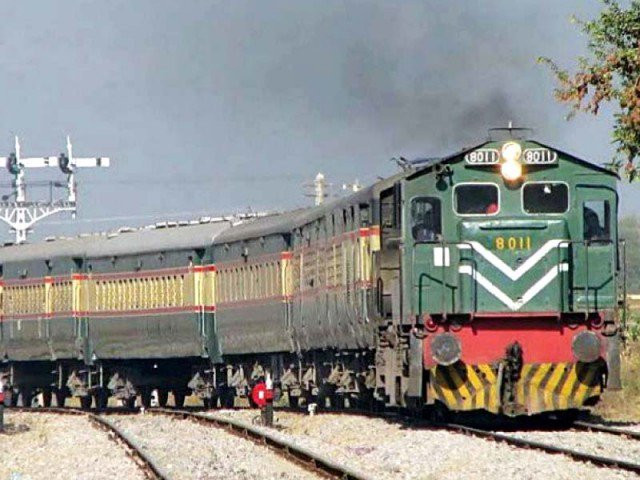 ---
NCOC bans train travel for unvaccinated citizens from Oct 1
NCOC happy with vaccination drive, wants timely administration of second doses
---
ISLAMABAD:
In a bid to contain the spread of coronavirus infections, the National Command and Operation Centre (NCOC) announced on Monday that only vaccinated individuals will be allowed to travel by train from October 1.
The decision was taken during a meeting chaired by NCOC chief Asad Umar. During the meeting, the high-level forum expressed concern over the alarming increase in Covid-19 infections across Pakistan, particularly Rawalpindi and Peshawar.
In Peshawar, traders have ignored the government's calls for compliance with Covid-19 SOPs, resulting in an increase in cases.
Although shops remained closed in Saddar and University Road areas of the city on Sunday, traders in most parts of the city largely ignored the call for lockdown and kept their shops open, the NCOC noted.
Read NCOC gives Aug 31 deadline to service sector for vaccination
In light of these violations, the NCOC issued instructions to the authorities concerned to ensure compliance with the anti-virus SOPs in an effective manner. The forum also deliberated upon measures taken ahead of Muharram.
The NCOC expressed satisfaction with the pace of vaccinations across Pakistan. However, it stressed that the second dose of the vaccine needed to be administered in a timely manner.
Sindh lockdown to be lifted
On Saturday, the NCOC announced that the lockdown announced by the Sindh government in the province would be lifted from August 9. In a joint session held in Karachi, it was also decided that non-pharmaceutical interventions (NPIs) issued by the NCOC for the 13 major cities with high disease prevalence, including Karachi and Hyderabad, would be enforced.
"The disease situation in Sindh, particularly in Karachi, was discussed at length. The need for better coordination and enhanced interaction at all levels was emphasised," a statement issued after the session had read.
The NCOC had lauded Sindh's vaccination efforts. During the meeting, it was decided that reopening of schools and conducting remaining exams would be discussed at the next Inter-Provincial Education Ministerial Conference.
"Special emphasis was laid on the implementation of SOPs/NPIs, especially in the wake of Muharram and lifting of the lockdown from August 9 onwards. Smart Lockdowns in high disease prevalence areas will also be enforced to curtail disease spread," the statement added.
Sindh CM Murad Ali Shah had told the participants of the meeting that the number of active Covid-19 cases was on a downward trend in the province, particularly in Karachi.