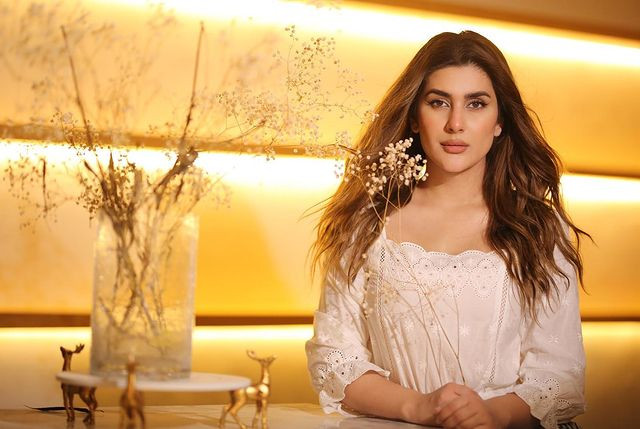 ---
Kubra Khan is known to steal hearts irrespective of the characters she plays on screen and her latest, negative role in Hum Kahan Ke Sachay Thay, has only added to her popularity. So after receiving praise for humanising her character's flaws, the actor had a tête-à-tête with a local news outlet about the many layers Mashal embodies.
Kubra, who's made a name for herself through plays like Alif and Sang e Mar, spoke in great detail about her experience of playing Mashal opposite Mahira Khan in her latest stint. The drama also stars Usman Mukhtar.
Accepting flaws
"I always knew Mashal is a semi-dark, negative, or grey character. But I never expected her to get so much attention," confessed Kubra. "I didn't think people would notice all her shades because the characters we portray are often negative or positive, leading viewers to develop a black and white understanding of them," she shared, hinting at the lack of character development on Pakistani television.
So Kubra is glad viewers have developed an understanding for her character instead of simply judging it. "There's pain in her. I am not going to defend her actions but she has her reasons," Kubra added. "As an actor, whether you are playing a positive or a negative role, you have to believe your character is right," she continued, relaying the empathy an actor must display while taking up any role.
Kubra reinstated, how, for her, Mashal did not represent any desirable or undesirable qualities; rather, she was only human. "When I spoke to Umera Ahmed about my character, she told me she wanted people to try and hate it but fail," recalled Kubra. "And now that there are conflicting views about it, I'm happy to quote Umera Ahmed, and say, 'Hum Kahan Ke Sachay Thay is a story about two girls – the good girl who isn't angelic and the bad girl, who takes a last minute turn from becoming the devil.'"
Like many celebrities, Kubra has also been the target of trolls and about tackling that negativity she said, "People don't think actors can be sensitive human beings but we are because of the amount of empathy we require to play the people we embody on screen. If we see one bad comment in a thousand good comments, we will take it to heart."
She then recalled her mother's advice, which helped her filter out negativity. "After seeing me hit my lowest, she'd say, 'We can't hear praise in a sea of criticism and similarly, we can't hear critique in a sea of praise. So just make sure you have your priorities in check. If you want a sea of praise, then one bad comment here or there shouldn't matter. As long as you're happy with your work, you haven't done anything wrong and your conscious is clear, just relax,'" she said.
Depicting violence
Kubra also addressed the scene where Mashal slaps Mehreen provided the portrayal of violence on screen is being widely debate these days. "Both Mahira and I agreed that we didn't need to show the slap. I tried to play Mashal's character as humanely as possible. Just because she's evil, doesn't mean she's overly dramatic." Kubra admitted.
Women of steel
The Jawani Phir Nahi Ani actor also spilled the beans on her upcoming drama serial, Sinf e Ahan. Surprisingly, the show doesn't require her to 'act', she revealed. "We're not acting in Sinf e Ahan. I mean a lot of what we did was actual cadet training. And the cameras rolled while we went through it," recollected the starlet. "I have a lot of bruises, cuts and aches to show for it. It's really tough. Salute to all the women and the men that go for training and are in the forces," she added.
Kubra went on to reveal that none of the gadgets she and her fellow co-stars used were props. "The guns, the water bags were real. If we lifted a 10kg box in the scene, we were actually lifted a 10kg box," said the 28-year-old.
As for her experience of working with Sajal Aly, Yumna Zaidi, Ramsha Khan, and Syra Yousuf for the much-anticipated ISPR project, Kubra remarked, "My girls are made of steel. Everyone is doing such a fantastic job. No complaints, everyone is happy."
Being MIA
Kubra also opened up about keeping a distance from the small screen before resuming her acting duties. "Acting has become a huge part of my life. I wouldn't say it's my identity but it is what I'm known for and I needed to take some time off to be Kubra. Not Kubra Khan the actor but just Kubby," she owned up. "That's it. There are times in your life when you need to take time out to find yourself and I was doing just that."
While Kubra remained in her shell largely because of the Covid-19 pandemic, she also spent that time introspecting. "I went through a phase three to four years ago when there was a lot of blur in my head, so you start to redefine yourself and pinpoint what is right or wrong in yourself, your beliefs and morals. I had to go back to my habitat and that isn't here [in Pakistan]. I needed to be alone and speak to my 17 and 18 year-old Kubby to get back to normal," she reflected.
Have something to add to the story? Share it in the comments below.
COMMENTS
Comments are moderated and generally will be posted if they are on-topic and not abusive.
For more information, please see our Comments FAQ