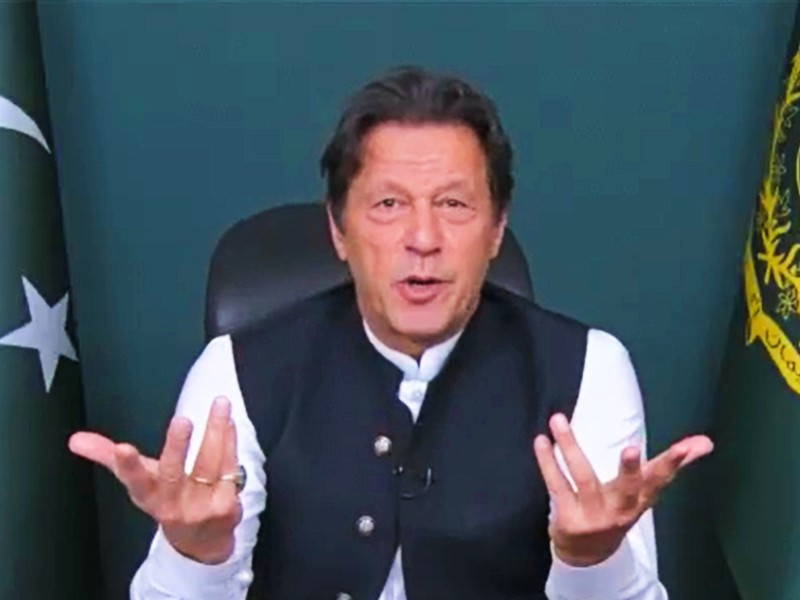 ---
ISLAMABAD:
Prime Minister Imran Khan is all set to virtually address the 76th session of the United Nations General Assembly (UNGA) being held in New York.
During his address today, the premier will underscore Pakistan's stance on key regional and global issues, particularly the brewing humanitarian crisis in Afghanistan and rights violations in Indian occupied Kashmir.
The address will also "reflect Pakistan's abiding commitment to multilateralism and affirmation of the United Nations' central role in the maintenance of international peace and security, promotion of sustainable development and respect for human rights worldwide," the state-run Radio Pakistan reported.
Imran will use this opportunity to enhance Pakistan's diplomatic outreach. The prime minister will also focus on key global and political challenges faced by the international community, especially the Afghanistan and Kashmir conflicts.
Read At UN, Boris Johnson highlights PM Imran Khan's 10 billion trees project
"Pakistan will draw world's attention to the human rights violations in Indian occupied Kashmir, the imperative to stabilise Afghanistan, and the need to combat Islamophobia," the APP quoted Pakistan's UN representative, Munir Akram, as saying.
Building resilience
This year's theme of the UNGA session is: "Building resilience through hope – to recover from Covid-19, rebuild sustainability, respond to the needs of the planet, respect the rights of people, and revitalise the United Nations".
Despite the US' request that member states send pre-recorded messages to curb the spread of the coronavirus, 83 heads of state, 43 prime ministers, three deputy prime ministers and 23 foreign ministers are present in New York to attend the General Assembly.
Climate change, Covid-19 and security are set to dominate discussion during the annual gathering, which is being attended by the head of governments in person and virtually.
During opening remarks on Tuesday, UN Secretary-General Antonio Guterres warned of a world on the "edge of an abyss" as he urged countries to up engagement with the organisation.
So far, the leaders of Jordan, Saudi Arabia, Venezuela, the United Kingdom, the United States, China, Iran, Qatar, Turkey, South Korea, Democratic Republic of Congo, Iraq, Chad, Zimbabwe, Panama, Cuba, South Africa and Brazil have addressed the UNGA session.
COMMENTS
Comments are moderated and generally will be posted if they are on-topic and not abusive.
For more information, please see our Comments FAQ