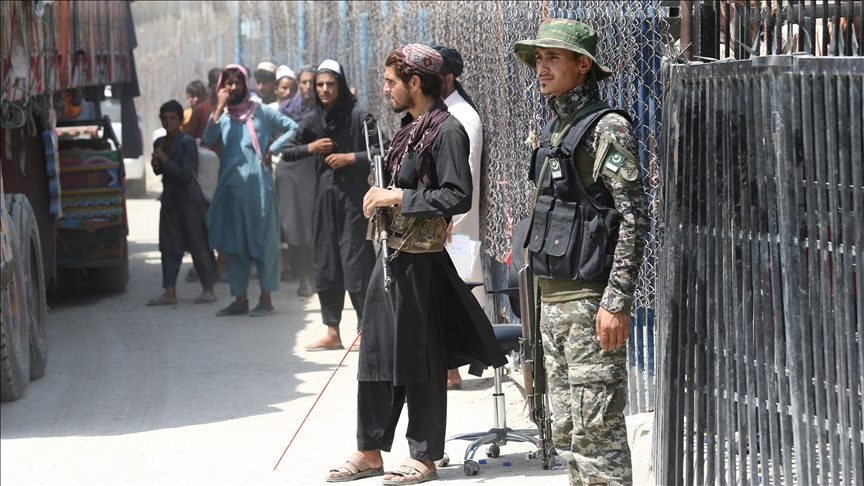 ---
LANDI KOTAL:
Afghan Taliban briefly closed down the Torkham border crossing along the Pak-Afghan border on Thursday in a protest and demanded Pakistan to allow unrestricted entry of Afghan nationals into the neighbouring country.
This decision prompted the Frontier Corps (FC) to negotiate the matter with Afghan Border Police who finally agreed to open the border in the evening after a day-long closure.
Pakistan has restricted the entry of Afghan nationals following the National Command and Operation Centre (NCOC) decision to stop the spread of Covid-19 across the international borders.
"Today they closed the border on their side and didn't allow Pakistanis to enter Afghanistan which caused a traffic jam on the crossing point as dozens of trucks waited on both the sides of the border along with travelers.
"Due to the prevailing coronavirus situation, Afghan nationals could not be allowed to enter freely into Pakistan because most of them carry fake Covid certificates and the status of vaccination in that country is also unidentified as for now," said an official while talking to The Express Tribune, adding that Taliban threatened that if Afghans were not allowed freely into Pakistan, then they would keep the border closed.
"The border remained closed for the entire day forcing the Rangers and FC officials from the Pakistani side to negotiate the matter with Afghan Border Police who finally agreed to open the border in the evening," he said, adding that allowing unvaccinated Afghan nationals into Pakistan pose a health risk because most of them do not even bother to wear a mask.
An FC official said currently Afghan nationals could only use Torkham border crossing point for entry into Afghanistan and Afghan Transit Trade trucks are allowed to move freely.
He said travelling will only be allowed as per the medical and Covid-19 standard operating procedures (SOPs).
It is pertinent to note that movement of Afghan nationals was restricted for the first time at Torkham crossing after the Army Public School attack in 2014.
Previously, Afghan nationals needed no documentation to enter Pakistan and approximately 15,000 crossed into Pakistan per day on an average.
The number of Pakistanis traveling to Afghanistan was not more than a few hundreds daily. After the recent pandemic, the free movement was completely halted and now people are allowed to come to Pakistan only for medical treatment for which a hospital has been established on the border.
Published in The Express Tribune, September 24th, 2021.
COMMENTS
Comments are moderated and generally will be posted if they are on-topic and not abusive.
For more information, please see our Comments FAQ