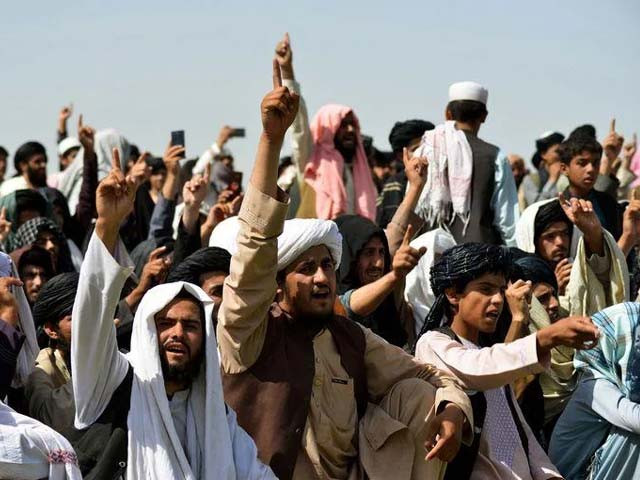 ---
ISLAMABAD:
The interim Afghan government has assured Pakistan, China and Russia that it will work towards meeting the international demands including the formation of an inclusive government, protecting women and human rights.
The assurance was given by Acting Afghan Prime Minister Mullah Hassan Akhund in a meeting with the special envoys from Pakistan, China and Russia in Kabul on Tuesday.
Diplomatic sources familiar with the development told The Express Tribune that both the Chinese and Russian envoys were "satisfied" with their interaction with the Taliban leadership. They also visited markets and different ministries and were surprised to find the situation on the ground normal.
The sources said the Taliban agreed that they had to include members of all ethnicities in the government as they were of the view that "Afghanistan is for everyone".
While the Taliban, in principle, supported the idea of an inclusive government, the sources said that their leadership made it clear that known figures, who were part of the government in the last 20 years and had been accused of corruption would not be invited to join the setup.
The special envoys of Pakistan, China and Russia were also told that there would be no restriction on the girls' education but that would be done as per "Sharia."
The sources said the Taliban leaders were mindful of the fact that they had to work with the international community and that was the reason they were willing to address the concerns of the outside world.
Read More: Security ensured, economy still poor after Taliban takeover, say tradesmen
Pakistan, China and Russia have convergence of views on the way forward for Afghanistan. On one hand they are urging the international community, particularly the West, to remain engaged with the Taliban but at the same are asking the Taliban to form an inclusive government, ensure women's rights and not to allow Afghan soil to be used again by terrorist outfits.
The sources said the Taliban leadership requested China and Russia for their support for efforts for the unfreezing of foreign reserves. The US has frozen around $9.5 billion foreign reserves of Afghanistan since the Taliban took control of Kabul.
The lack of access to the foreign reserves would create difficulties for the Taliban government to do business with the outside world. Pakistan, China, Russia and even Qatar have called for unfreezing of the foreign reserves as they believe that an economic collapse of Afghanistan would serve no one's purpose.
A day after their visit to Kabul, the Chinese and Russian envoys travelled to Islamabad where they were received by Foreign Secretary Sohail Mehmood. In a statement the Foreign Office said that Foreign Secretary Sohail Mahmood received the special envoys.
Pakistan, the statement said, reaffirmed support for peaceful, stable, sovereign and prosperous Afghanistan; underscored importance of international engagement to address humanitarian challenges and stabilize economic situation.
COMMENTS
Comments are moderated and generally will be posted if they are on-topic and not abusive.
For more information, please see our Comments FAQ