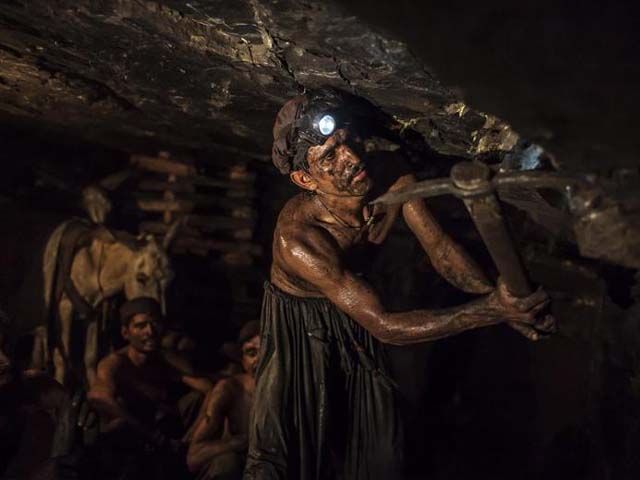 ---
QUETTA:
At least four coal miners died while working at the Chamalang coal mine in Balochistan's Dukki district on Tuesday due to the accumulation of poisonous gas underground.
According to sources familiar with the matter, the coal mine is located in the Anghoor Sheila area of Chamalang. The bodies of the colliers remained trapped inside for a while until the locals were able to extract them. They were shifted to the hospital for the completion of medicolegal formalities and identification purposes.
All the dead labourers hailed from Kakar, Khurasan and Zhob. Local administration reached the site after being informed of the incident. The mine was shut down and an inquiry was opened.
In March this year, six miners were killed in a blast at a coal mine in Balochistan's Marwar field, officials with the provincial Directorate of Mines had said. They were among eight miners trapped about 1,000 feet underground when accumulating methane gas exploded at the coal field, the officials had added.
Read Worker 'beaten to death by coal company's guards'
"Six bodies had been retrieved by the rescuers from the affected mine," a senior official of the Directorate of Mines had said. "[The] mine has been closed and an inquiry has been ordered by the Chief Inspector of Mines into the incident."
Last year, 102 coal miners were killed in Balochistan in 72 different incidents, Sultan Muhammad Lala, president of the Balochistan Coal Mines Workers Federation had said. He had added that the government and mine owners were not ensuring safe working conditions at the sites.
An explosion caused by methane gas at another coal mine in Marwar in May 2018 killed 20 workers.
In August that year, another methane-fueled explosion in the city of Quetta killed seven. In 2011, 45 coal miners were killed by a methane gas explosion, also in Balochistan.
Sparsely populated and impoverished Balochistan is home to large deposits of coal, natural gas, copper and gold, many of which are being extracted by Chinese-backed operations.
COMMENTS
Comments are moderated and generally will be posted if they are on-topic and not abusive.
For more information, please see our Comments FAQ