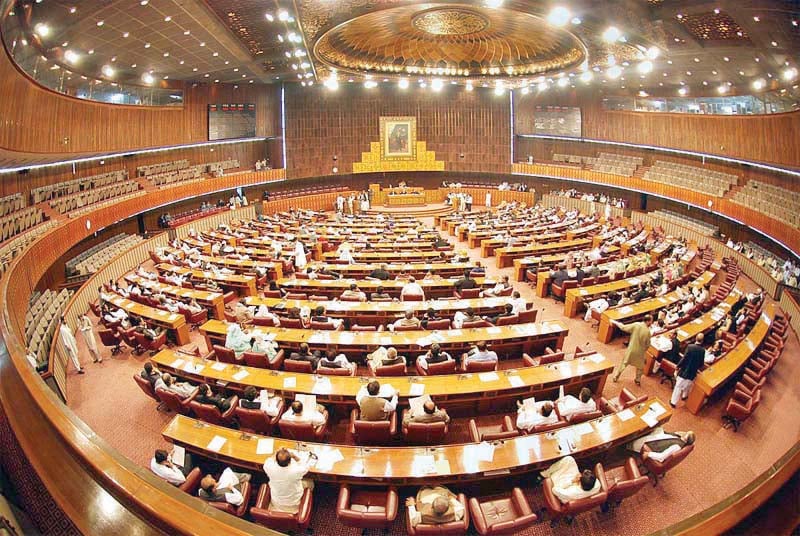 ---
ISLAMABAD:
The Quorum issue persisted in the National Assembly on Monday as the session was adjourned after a senior Pakistan People's Party (PPP) leader was not allowed to raise the issue of petroleum products in house.
During the session, Pakistan Muslim League-Nawaz lawmaker Ahsan Iqbal criticised the government for ruining the Narwal Sports Project, while the journalists protested against the closure of the Press Gallery during the parliamentary session last week.
PPP's Naveed Qamar urged the speaker to postpone the routine agenda and allow debate on the petroleum products issue.
However, Adviser to Prime Minister on Parliamentary Affairs Babar Awan said that the matter should be deferred to Tuesday (today) because of a heavy agenda of the day.
At that point the opposition's Sajjad Mehdi pointed out the quorum. Speaker Asad Qaiser, who was chairing the session on Monday, adjourned the sitting of the lower house of parliament until Tuesday (today) evening.
Read Lack of quorum mars NA session
Earlier, journalists staged a walked out over the closure of the Press Gallery during the joint session of parliament. Chief Whip Aamir Dogar, Amjad Niazi and Saira Banu spoke to the journalists on the direction of the Speaker. They assured the journalists of resolving the issue.
Meanwhile, taking the floor, PML-N leader Ahsan Iqbal asked why the Narwal Sports Project was ruined. Inter-Provincial Coordination Minister Dr Fehmid Mirza told the house that the Council of Common Interests (CCI) had decided to send the project to the province.
Mirza said that the provincial governments would have to take responsibility in the field of sports. Responding to Iqbal's remarks about a sports project in Badin district, her home constituency, the minister said that it was right of the people from backward areas.
At the onset of the session, the house offered Fateha for the departed souls of senior journalist CR Shamsi, former MNA Farzeen Ahmed Sarfaraz and victims of the Dir incident. Maulana Abdul Abkbar Chitrali led the Fateha on the request of Speaker National Assembly Asad Qaisar.
The National Assembly also passed a unanimous resolution to pay rich tributes to veteran politician Sardar Ataullah Mengal, who passed away recently. The house expressed deep sorrow and over the demise of Mengal.
COMMENTS
Comments are moderated and generally will be posted if they are on-topic and not abusive.
For more information, please see our Comments FAQ