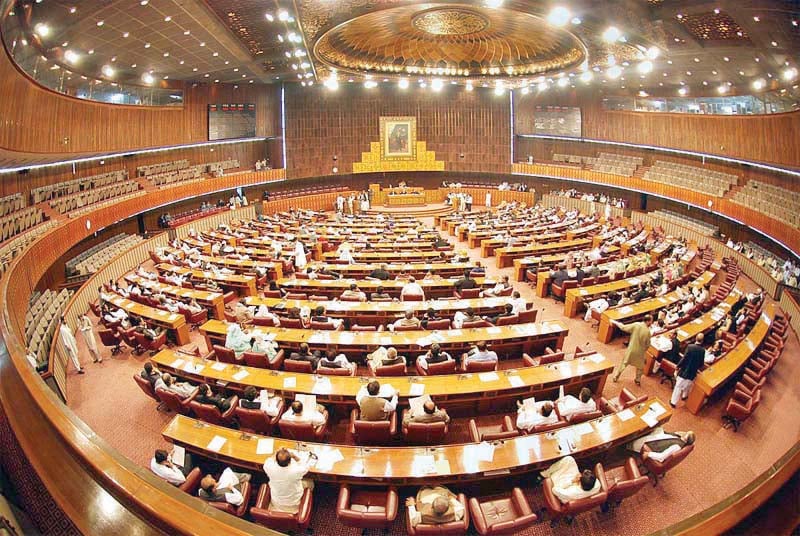 ---
ISLAMABAD:
The first National Assembly session of the new parliamentary year was marred by the lack of quorum, however, the lawmakers waited for the passage of a resolution to pay tributes of the late Kashmiri leader, Syed Ali Shah Geelani.
At the outset of the session, chaired by Speaker Asad Qaiser, Pakistan Peoples Party (PPP) senior leader Syed Naveed Qamar criticised the government for convening the session in haste. He also raised the issue of closing the press gallery during the joint sitting of parliament earlier this week.
Qamar and fellow opposition lawmaker Khawaja Saad Rafique of the Pakistan Muslim League-Nawaz (PML-N), agreed that they would let the tabling of the resolution for the late Geelani. Later, Minister of State for Parliamentary Affairs Ali Muhammad Khan tabled the resolution.
Read Treasury fails to ensure quorum in PA
The resolution said that late Geelani was the soul of the Kashmir independence movement. It urged the international community to take steps against Indian atrocities in Kashmir. The resolution was passed unanimously.
The house also offered Fateha for Geelani and former Balochistan chief minister Attaullah Mengal. Later, PPP member Agha Rafiullah pointed out the quorum on which the speaker adjourned the session till Monday.
COMMENTS
Comments are moderated and generally will be posted if they are on-topic and not abusive.
For more information, please see our Comments FAQ