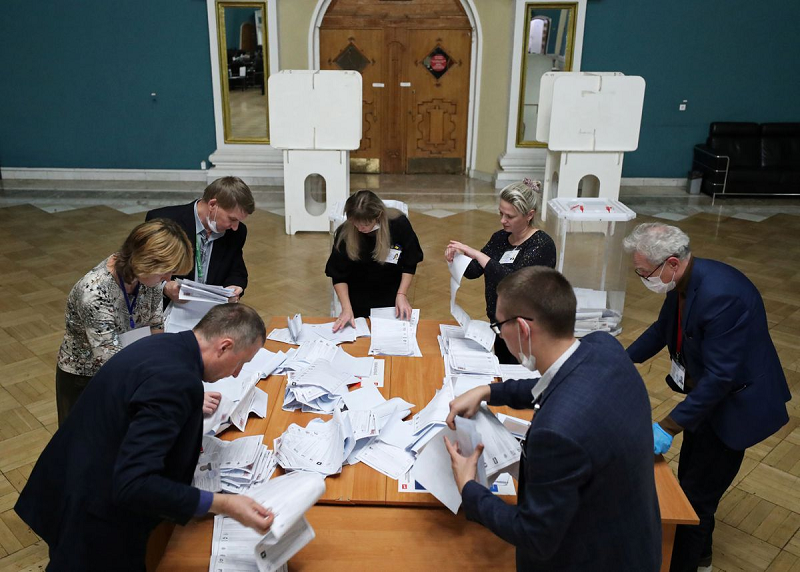 ---
MOSCOW:
The ruling United Russia party, which supports President Vladimir Putin, is on course to win a three-day parliamentary election, initial results and an exit poll showed on Sunday.
With just 9% of ballots counted nationwide, the Central Election Commission said United Russia had won 38.57% of the vote.
Separately, an exit poll conducted by INSOMAR and published by Russia's RIA news agency predicted United Russia would win just over 45% of the vote.
The party won just over 54% of the vote in 2016, the last time a parliamentary election was held. It has since faced a slump in its popularity due to malaise over years of faltering living standards.
Initial results showed the Communist Party finishing in second place with 25.17% of the vote, followed by the nationalist LDPR party with 9.6%.
Allies of jailed Kremlin critic Alexei Navalny had urged Russians to follow his tactical voting strategy, which amounts to supporting the candidate most likely to defeat United Russia in a given electoral district.
The vote comes in the wake of an unprecedented crackdown on the opposition this year, with Russian authorities jailing Putin's best-known domestic foe Alexei Navalny and banning his organisations as "extremist".
In the lead-up to this weekend's vote, all of his top allies were arrested or had fled the country, with anyone associated with his groups kept from running in the parliamentary and local polls.
"These essentially aren't elections. People in effect have no choice," 43-year-old businessman Vladimir Zakharov told AFP in Russia's second city Saint Petersburg.
The elections were also marred by claims of censorship and rampant ballot stuffing.
(With input from AFP)
COMMENTS
Comments are moderated and generally will be posted if they are on-topic and not abusive.
For more information, please see our Comments FAQ