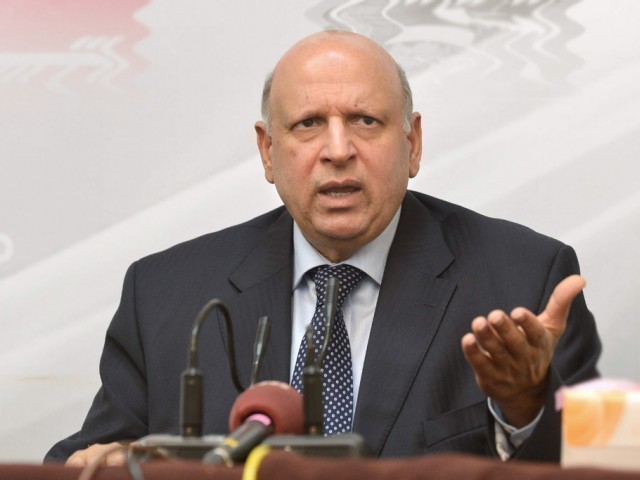 ---
LAHORE:
Punjab Governor Chaudhry Muhammad Sarwar has said that he had already forewarned the PTI leadership about the impending defeat in Punjab three weeks ago keeping in view the existing administrative issues and price hike.
Talking to a group of journalists at Governor House Punjab on Wednesday, Mr Sarwar pointed out that if the ruling party wished to form government in the next general elections, it will have to address a myriad of issues plaguing the province at every level.
Attributing the ruling PTI's failure in the recent cantonment boards' polls to issues such as inflation, hike in prices and administrative mismanagement, the governor conceded that there was a lack of leadership on the ground to steer these elections.
He said that the absence of Aleem Khan also made a dent in the party.He stressed that the party needs to abandon its overused narrative of calling out the opposition for looting the country, adding that people have got "sick and tired of this".
"After three years, blaming the previous government for all governance failures was in fact infuriating people. The party has made strides in bettering the state of affairs of rural folks. For some odd reason, those things are seldom talked about, and the only narrative that party tries to sell is that previous governments were thieves."
Regarding the state of affairs in Punjab, he said that MPA's and MNA's come to me saying that when they approach government officers to get something done they are told it's not possible. But the same is done, when they are paid ten thousand rupees in bribes. He said that PTI needs to bring its house in order and focus on service delivery.
Regarding local governments, he said that thus far we do not have clarity in this regard. He said that the initial system proposed by the government was impractical. He said that 25000 administrative units as proposed were not practical. We did not have the fund to run that big of a setup.
He said that the proposal was tehsil was also not workable as the entire system function on a district level and that system would have brought four Tehsils under one DC.He said that the best local government system ever brought in place in Pakistan was under Pervez Musharaf.
To a question of this scribe, he said that there was no reason to go on a rampage against the ECP. "The ECP chairman is a very honest person and an upright servant of the state," he said.It is pertinent to mention that rumours were doing rounds that Chaudary Sarwar was not in the good books of Prime Minister Imran Khan.
Reportedly, the premier, during his visit to Lahore, did not even meet the governor.It was said that during a gathering hosted by Speaker National Assembly Asad Qaiser, Sarwar poured his heart out about the issues confronting the party and even criticised some decisions made by the top leadership.
The criticism did not go down well with the premier. It was further revealed that Sarwar was even mentally prepared for any such adverse decision of the prime minister.
COMMENTS
Comments are moderated and generally will be posted if they are on-topic and not abusive.
For more information, please see our Comments FAQ