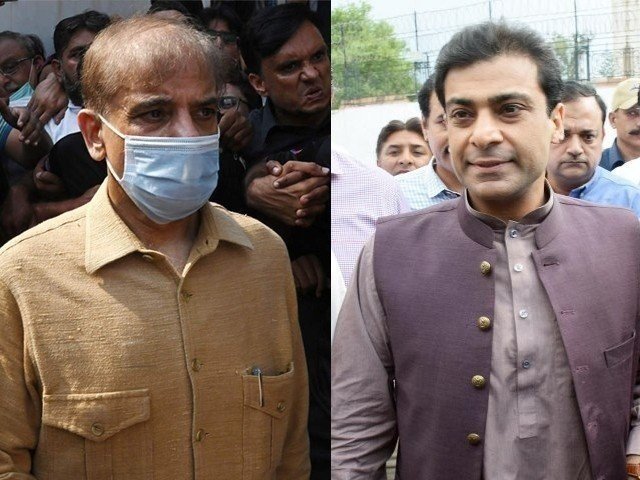 ---
LAHORE:
Reports of rift within the PML-N gained credence when Shehbaz Sharif and his son Hamza Shehbaz remained absent during a party meeting that was presided over by party supremo Nawaz Sharif from London via video link.
It was the first division-wise meeting of Punjab that was held to reorganise the party at union council level starting from DG Khan Division.
Nawaz's daughter Maryam and other senior leaders taken to be from Nawaz camp were in attendance.
Earlier, PML-N Punjab spokesperson Azma Bukhari had announced that the top leadership of the party would hold division-wise meetings with party office bearers and parliamentarians from 15th till 30th September.
The meeting did proceed as announced, however it was not attended by either party president Shehbaz or his son Opposition Leader in the Punjab Assembly Hamza. Irrespective of Hamza and Shehbaz's party position, both are seen as the most instrumental leaders in Punjab.
Furthermore, even the victory bagged by PML-N in cantonment board elections that helped the party to raise its spirit, was attributed to both Shehbaz and Hamza's lead in the polls.
During the cantonment board elections, the PML-N had somewhat sidelined Nawaz's narrative of "vote ko izzat do" (give respect to the vote) and adopted a more docile stance of "give respect to performance".
Shehbaz's spokesperson Malik Muhammad Ahmad Khan while talking to The Express Tribune said that there was no need for party president to participate in every meeting.
Asked why was the party president and his son's name in the presser issued by the party a day earlier, Khan said he was not aware about it.
Asked how the party could begin reorganising its lowest tier without Shehbaz, he said all he could say was that the party president was not scheduled to attend the meeting.
When asked whether Shehbaz and Hamza would attend Bahawalpur Division's meeting scheduled for Thursday (today), Khan expressed ignorance about any such meeting.
To a question about Javed Latif's statement, who had earlier this week said that the ones who talked about reconciliation were on some sort of "assignment", Khan said to say that leaders such as Khawaja Asif were on some task, was beyond believe.
He said if Latif had any issue, he should have raised it with the party. Such statements are damaging for the party, he maintained.
A well-placed source within the party claimed that Shehbaz was being sidelined in his own party and was not allowed to speak his mind out in public. Every such attempt has been met with reprisal from within the party, it said.
The source noted that Shehbaz's absence from the DG Khan meeting was an "escalation of a war of narratives" in the party. It said Nawaz wanted to advance his narrative in the party and did not want to give any space to the narrative of reconciliation.
The source said it seemed things had come to a "tipping point" in the party and added that "soon this divide would be at a point of no return".
A statement issued by the PML-N after the DG Khan meeting quoted Nawaz as saying, "'give respect to the vote' is not my personal narrative but has become the narrative of the whole nation".
Nawaz said the common man was fed up with the "inept policies" of the incumbent regime, which had brought "hunger and inflation" in the country.
He said a crisis-like situation prevailed as a "selected premier" had been "imposed" on the country.
The PML-N supremo directed his party to complete the organisation at the union council level within a month.
Maryam while addressing the meeting observed that they could have easily left the country to avoid the "difficulties they faced" but instead decided to stay home.
She said in cantonment board elections, people voted for Nawaz and Shehbaz's in recognition of their services.
She said Nawaz's narrative had given a "voice" to the oppressed.
COMMENTS
Comments are moderated and generally will be posted if they are on-topic and not abusive.
For more information, please see our Comments FAQ