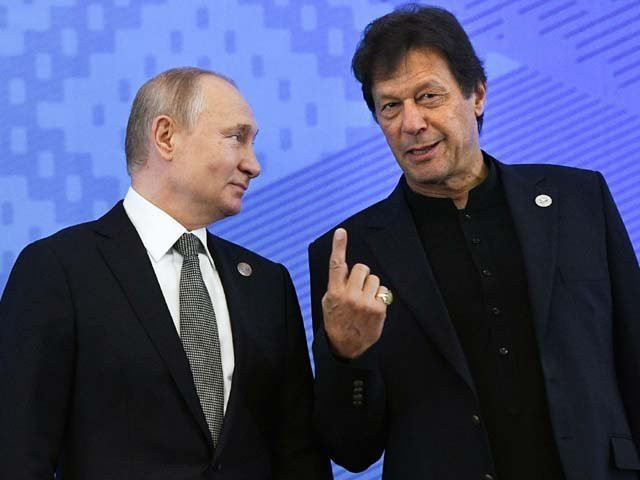 ---
ISLAMABAD:
Prime Minister Imran Khan on Tuesday received a telephone call from Russian President Vladimir Putin and the two leaders discussed the latest situation in Afghanistan and other matters, the Prime Minister's Office said in a handout.
This was Putin's second telephone call in less than three weeks. Earlier, the Russian president called Imran on August 25. Recalling their previous telephone conversation, the two leaders exchanged views on the latest developments in Afghanistan, the handout stated.
Imran and Putin also exchanged views on bilateral cooperation and collaboration within framework of the Shanghai Cooperation Organisation (SCO). During the conversation, the prime minister underscored the importance of peace and stability in Afghanistan for regional security and prosperity.
Read: 'Russia planning to send humanitarian aid to Afghanistan'
He called for the provision of humanitarian assistance to Afghanistan and the imperative of averting an economic crisis. He underlined the need for the international community to remain engaged in Afghanistan and stressed that the Afghan people should not be abandoned at this crucial juncture.
In the bilateral context, Prime Minister Imran emphasised the growing cooperation across a range of sectors, such as trade, investment and energy, and reaffirmed Pakistan's commitment to further upgrade the overall relationship.
He said that strengthening the trade, investment and energy cooperation was the cornerstone of Pakistan's engagement with Russia. He reaffirmed the government's resolve for early realisation of the Pakistan Stream Gas Pipeline Project.
The prime minister reiterated his invitation to the Russian president to visit Pakistan. Putin also renewed his invitation to Imran to undertake a visit to Moscow. The two leaders also agreed to remain in close contact.
(WITH INPUTS FROM APP)
COMMENTS (1)
Comments are moderated and generally will be posted if they are on-topic and not abusive.
For more information, please see our Comments FAQ