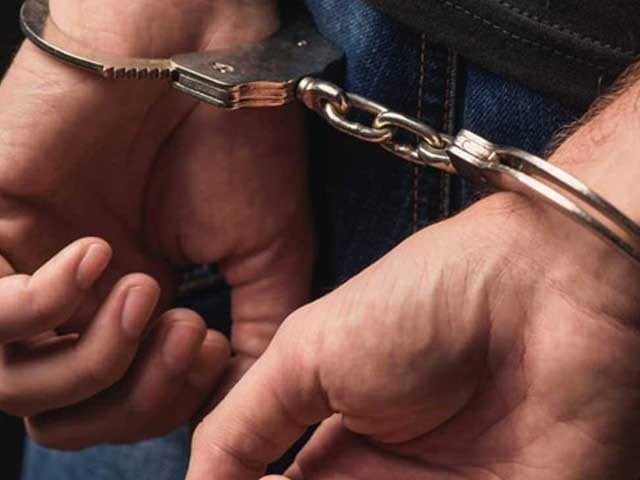 ---
CHAK JHUMRA:
Police arrested three youth for allegedly looting and sexually harassing four girls on Monday.
Police registered a case against the three youths for hooting and sexually harassing the four girls, including a matriculation student, when they were out in a park for a walk.
According to the police report, Ghulam Abbas, a resident of Block A, Sitara Colony, alleged that on the day of the incident, his daughter, a matriculation student, went for a walk in Deccan Park with her friends when they were intercepted by armed youths identified as Abdullah Rabbani, Asad Ali and Nisar Ahmed.
The youth allegedly hooted the girls while they were drinking water near the water plant. Two of the boys grabbed the dupatta of the girls and allegedly sexually harassed them.
Read SC's human rights cell takes notice of TikToker assault case
One of the suspects also pulled out a pistol and threatened to kill them. The girls screamed and ran away while taking the route of the pharmacy to reach Madani Chowk from where the suspects fled. Naybad police registered a case against the three suspects under Sections 354-294 A-509-506B and arrested them.
Incidents of harassment against women and gender minorities are not uncommon in the province.
On August 14, a TikToker was sexually harassed by a mob in the Greater Iqbal Park.
In a complaint lodged with the Lari Adda police station, the harassment survivor said that she was filming a video near Minar-e-Pakistan on August 14 along with her friends when a mob of around 400 people harassed and attacked them.
On the same day, a young woman had to go through a similar ordeal in Lahore, a video of which has now surfaced on social media.
The video showed that two girls along with a minor boy were sitting on the back seat of a Qingqi rickshaw that was stuck in a traffic jam as people were celebrating the Independence Day.
A man suddenly jumped on the rickshaw and forcibly kissed one of the girls, leaving her in shock and prompting the other to slap the harasser. Reportedly, people around the rickshaw, most of them on motorcycles, were also hurling derogatory remarks at the victims.
One of the girls could also be seen grabbing her shoe to defend herself as another man approached the rickshaw, apparently trying to replicate the harassment act.
On August 23, police arrested five suspects for eve-teasing in Lahore.
The victim along with her husband Muzammil, a rickshaw driver, and daughter Merab, were going home in the three-wheeler on Sheikhupura Road.
When they reached near a shop, Muzammil stopped the rickshaw and went to buy milk.
Published in The Express Tribune, September 14th, 2021.
COMMENTS
Comments are moderated and generally will be posted if they are on-topic and not abusive.
For more information, please see our Comments FAQ