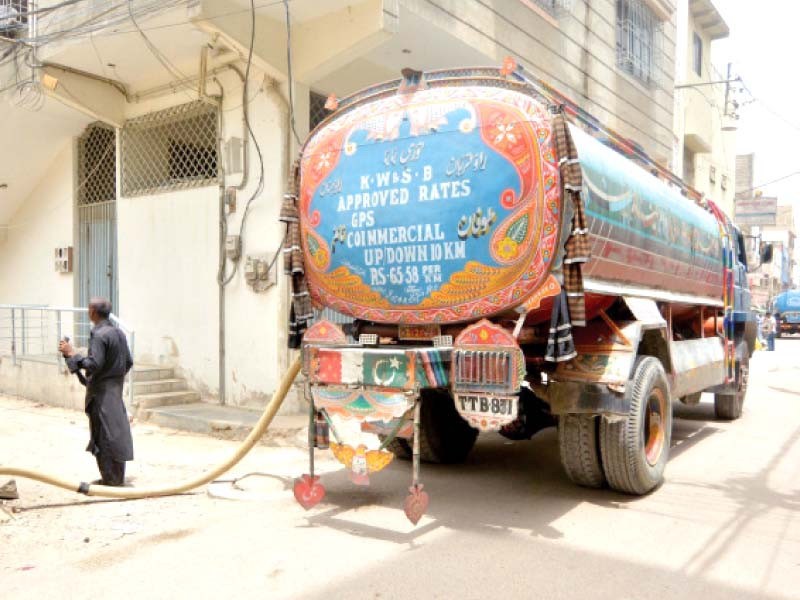 ---
KARACHI:
A large water theft network running in connivance with the officials of Karachi Metropolitan Corporation (KMC) was caught on Kashmir Road.
The Municipal Commissioner took immediate action on report of illegal hydrant on the KMC land. On the orders of the Municipal Commissioner, Director City Wardens Raja Rustam conducted a successful raid and sealed the illegal hydrant. During the operation, three tankers, pipes and other equipment used in water theft were seized.
According to sources, the water mafia had set up the illegal hydrant for the last several months with the connivance of KMC officials. Millions of gallons of water a day were stolen from the said illegal hydrant and sold to the citizens by tankers at exorbitant prices.
Sources said that the KMC officers were receiving extortion of millions of rupees per month from the operators of illegal hydrants. Sources said that water was stolen from the water board's conduit by a nexus of hydrant mafia and KMC officers while the place where the tankers were filled is also owned by the KMC.
Read More: Worsening water shortage
Sources said that residents of the area had repeatedly complained to the authorities about illegal hydrants but the authorities kept their eyes closed due to personal financial gains. The sources further said that some officials of the Karachi Water & Sewerage Board along with the KMC are also involved in the patronage of the said hydrant.
On the other hand, after the illegal hydrant on the land owned by KMC came to light, senior officials of the KMC have demanded strict legal action from the KMC administrator and the Municipal Commissioner against the officers who are sponsoring water theft.
Published in The Express Tribune, September 13th, 2021.
COMMENTS
Comments are moderated and generally will be posted if they are on-topic and not abusive.
For more information, please see our Comments FAQ