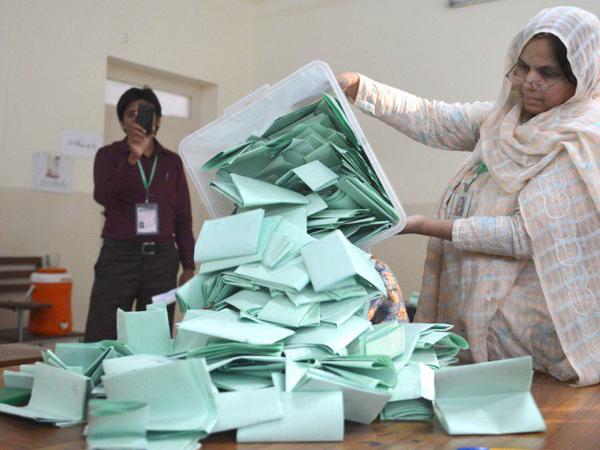 ---
LAHORE:
Pakistan Muslim League-Nawaz (PML-N) won cantonment board elections in Lahore by securing a majority of the 19 seats for which polling was held on Sunday. Pakistan Tahreek-e-Insaf (PTI) and independent candidates secured three seats each.
Unofficial results show that the PML-N's Ali Hassan Abbas won Lahore Cantonment Board (LCB) Ward-1 seat by bagging 1,312 votes. In LCB Ward-2, PML-N's Rizwan Shafqat won by bagging 5,034 votes. The ruling party's candidate Rasheed Ahmad won LCB Ward-3 seat by securing 2,629 votes.
In LCB Ward-4, PML-N's Rana Asif Ali won by securing 1,594 votes. Independent candidate Col (retd) Akbar Butt bagged LCB Ward-5 seat by securing 559 votes. The LCB Ward-6 seat was won by the PTI's Umar Talib by securing 2,150 votes.
LCB Ward-7, Ward-8, Ward-9 and Ward-10 seats were won by the PML-N's candidates Mian Babar Ashraf with 2,632 votes, Naeem Shahzad 3,598 votes, Muhammad Waqas Aslam 3,508 votes and Muhammad Jaffar 2,703 votes, respectively.
Similarly, in Walton Cantonment Board (WCB), PML-N won most seats. In WCB Ward-1, PML-N's Chaudry Ashfaq Ahmad won the elections by securing 4,096 votes. PML-N's Muhammad Hanif bagged WCB Ward-2 seat by getting 4,331 votes. WCB Ward-3 elections were won by Chaudhry Muhammad Sharif of PML-N by getting 5,470 votes.
In WCB Ward-5, PML-N's Raja Noor Subhani won by securing 1,850 votes. Similarly, in WCB Ward-6 PML-N's Nouman Naeem won by getting 4,373 votes.
In Ward-7 of the Walton Cantonment, polling was postponed due to the death of an independent candidate, Sadaqat Mehmood Butt.
In WCB Ward-9, PML-N's Karamat Ali won by obtaining 5,058 votes and WCB Ward-10 was secured by PML-N's Munir Hussain by getting 5,973 votes.
All major political parties had nominated their candidates for 20 seats of the Lahore and Walton cantonments. A total of 268 candidates participated in the election, of whom 110 contested for 10 seats of Lahore Cantt and 158 for 10 seats of Walton Cantt.
The ruling PTI and opposition PML-N had nominated candidates for all 20 seats in the provincial capital. The Allah-o-Akbar Tehreek nominated 19 candidates, Pakistan Peoples' Party 15, Pakistan Muslim League 13 and Jamat-e-Islami Pakistan 10 candidates. In addition, 144 independent candidates tried their luck in the cantonment board elections.
No major incident of violence or disruption was reported and polling remained largely peaceful in cantonment areas across the provincial capital as law enforcing agencies had made strict security arrangements. The polling started at 8am and continued till 5pm without any break.
Despite rain and water ponding on streets around polling stations, a large number of citizens took interest in the voting process. Long queues of voters were witnessed outside polling stations. Law enforcing agencies strictly implemented coronavirus safety standard operating procedures (SOPs) inside polling stations, while workers and supporters of different political parties distributed facemasks among voters.
PML-N leaders asked the Election Commission to extend polling time, saying voters were facing difficulty in reaching polling stations due to rain and water ponding on streets. But the election authorities decided not to extend the time and allowed voters present inside polling stations to exercise their right to vote beyond 5pm.
After the polling ended, a large number of PTI leaders and workers, including Mian Mahmoodur Rasheed, Ejaz Ahmad Chaudhry, Sobia Kamal Khan, Ali Imtiaz Warriach, Maj (retd) Zafar Ullah Chattha and Sheikh Imtiaz gathered at the party secretariat. The central media cell of the party had announced that PTI central Punjab president Ejaz Chaudhry would share elections results with the media. The party had also made arrangements for celebrating expected victory.
However, when the election results started pouring in, the PTI secretariat started to give a deserted look as party leaders and workers started to leave the place to avoid interaction with the media.
Speaking to the media, Ejaz Chaudhry said the party would express its reaction on the elections results on Monday.
Published in The Express Tribune, September 13th, 2021.
COMMENTS
Comments are moderated and generally will be posted if they are on-topic and not abusive.
For more information, please see our Comments FAQ