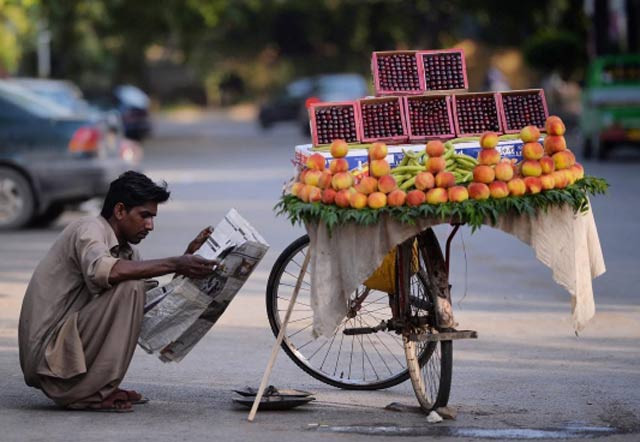 ---
ISLAMABAD:
As the peach season nears its end, peaches from Swat adorn the baskets of Islamabad's bicycle fruit vendors.
A number of these vendors dot the busy Aun Muhammad Rizvi Road, named after the famed PTV controller who was murdered in 1999. The heavy inflow of traffic is the vendors' bread and butter and is one of the reasons they like selling on this road.
Muhammad Hussain, hailing from Lodhran in South Punjab, is one such vendor. He parks his bicycle under the shade, to beat the heat, and patiently waits for customers. Talking to The Express Tribune he says, "sometimes we get repeat customers but mostly we get new customers every day." He along with 10 others from his village moved to Islamabad when one of their own already living in the city told them about the opportunities in the fruit business.
Despite the rates being higher than market prices, business is good for Hussain and his counterparts. The reason for this according to Hussain is that they only buy fruit that is the best looking and highest in quality.
The fruit is arranged like a pyramid and is dabbed with water several times a day to make it presentable for motorists. The presentation technique certainly seems to be working as several motorists pull up to inquire about the rate. "Rs250 per kilo," a sweat-drenched Hussain informs them one by one.
"We wake up at 4 am and after praying we go to the mandi on our bicycle," says Hussain. From his abode, in Islamabad's Mehrabadi, to the fruit market is a one-hour ride back and forth. "After the mandi, we come here and organize the fruit on our display racks and our aim is to stay here until we sell all of it."
Common between the vendors, apart from hailing from Punjab, is long hours of work. Some days they are sold out during the day and happily bike back home, while other days they are not as fortunate. "There is no fixed time, sometimes we get done at 5 pm, sometimes at 1 am," says a visibly tired Hussain.
The concept of a day off is amiss. Rain or shine, these vendors are present all over Islamabad's tree-lined avenues to make an honest living for their families back home. "Sitting at home doing nothing costs Rs500 to Rs600. I am a poor man who cannot afford to do that daily, so I come to sell fruit every day."
Read PHA to plant saplings of seasonal fruits
Even the heavy monsoon rains and flooding in the federal capital have not dented their hopes of making sales, the reason being that summer is the most profitable fruit season and they wish to ride the profit wave for as long as they can. According to Hussain, grapes and pomegranates are the most profitable produce. After their season subsides, the vendors will take a break to visit their village and families.
Endless problems
Being away from family does not weigh heavy on most of them as their day-to-day challenges give them ample worries. "Wholesalers at the mandi deceive us sometimes. They put good fruit at the top of the crates and bad fruit at the bottom. Customers don't buy bad-looking fruit and then it is a loss for us," states Hussain.
Apart from wholesalers ruining their good presentation selling model, they must deal with pesky and conniving customers. "We often get fake bills and by the time we realise this the customer has already driven off with the change and fruit," Hussain said recounting an incident.
Hussain has also suffered a leg injury owing to a rash driver, who not only knocked him and his fruit over but never stopped to inquire about him or pay for damages.
The troubles do not end there, stringent Capital Development Authority (CDA) regulations are another daily hurdle. "My bicycle is rusty and old because the CDA confiscates them to get us [vendors] off the roads. They have previously taken 6-7 bicycles of mine so I always buy cheap ones to avoid heavy losses."
Buying cheaper bicycles also has its drawbacks as they are harder to ride and often due to their age the gears break. Such a scenario is the vendors' worst nightmare as finding a good mechanic takes hours of walking with the weight burden of a bike and fruit. "I have 7 mouths to feed, three times a day, back home so I have no other option apart from this struggle," Hussain told The Express Tribune.
Published in The Express Tribune, September 3rd, 2021.
COMMENTS
Comments are moderated and generally will be posted if they are on-topic and not abusive.
For more information, please see our Comments FAQ