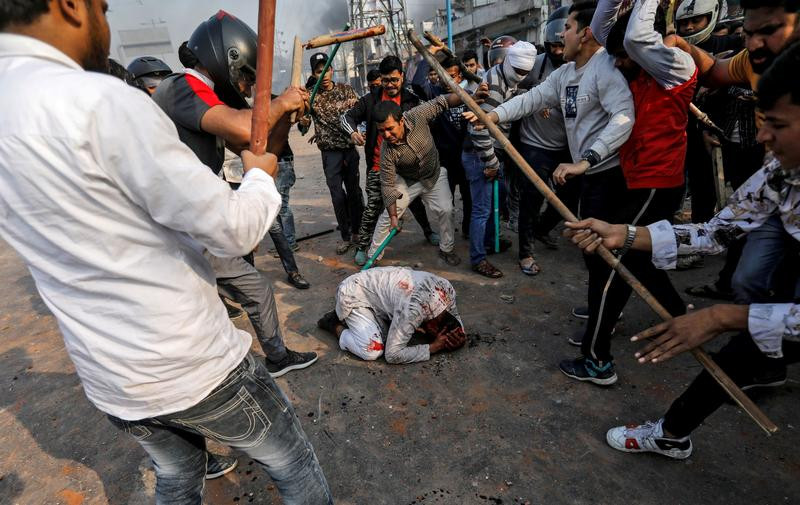 ---
Despite the rising number of hate crimes against Muslims of India, the country's Prime Minister Narendra Modi-led BJP government hardly ever condemns such incidents as Hindu mobs "routinely" target the largest minority, BBC reported.
In August, a video went viral on social media, showing a terrified little girl clinging to her Muslim father as a Hindu mob assaulted him.
The daughter of a 45-year-old rickshaw driver could be seen in the footage showing the helpless man being paraded through the streets of Kanpur city as the mob kept hitting him.
The attackers asked the rickshaw driver to chant "Hindustan Zindabad" or "Long Live India" and "Jai Shri Ram" or "Victory to Lord Ram" - a popular greeting that's been turned into a murder cry by Hindu lynch mobs in recent years.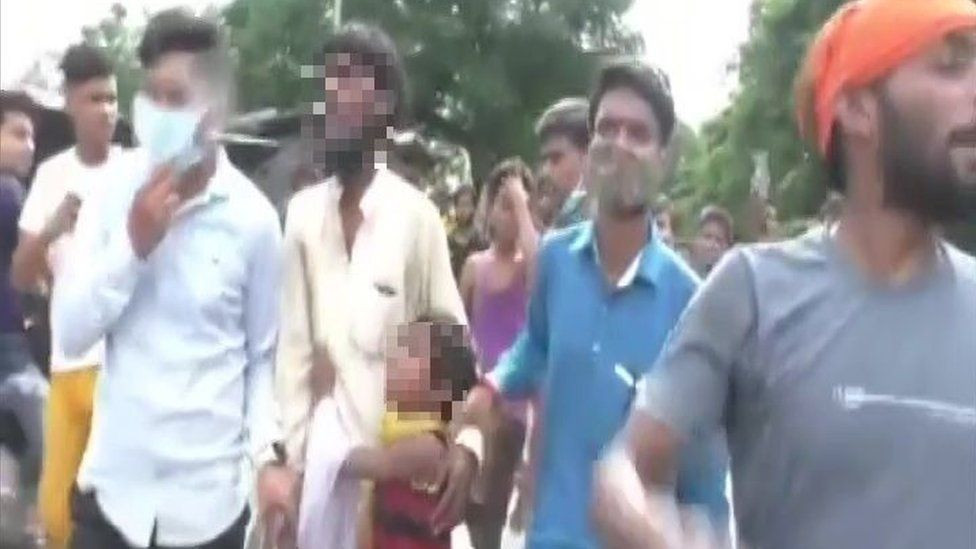 Read more: Muslim rickshaw driver assaulted, forced to chant 'Modi zindabad' in India
He complied, but the mob still kept hitting him. The man and his daughter were eventually rescued by the police. Three men arrested for the attack were freed on bail a day later.
The report stated that a few days later, another viral video surfaced showing a Muslim bangle-seller being slapped, kicked and punched by a Hindu mob in Indore city. "The attackers could be heard abusing Tasleem Ali and telling him to stay away from Hindu areas in future."
In a police complaint, the victim later said that he had been "beaten by five-six men who hurled communal slurs at him for selling bangles in a Hindu-dominated area and robbed him of money, his phone and some documents".
But in a strange turn of events, the report added, Ali himself was arrested the next day after the 13-year-old daughter of one of his alleged attackers accused him of molesting her. His family and neighbours have strongly denied the accusation. They said it was inconceivable that the father of five would do something like that.
Also read: Muslim women offered for sale in fake India 'auction'
And eyewitnesses, quoted in the Indian press, said he was attacked because of his religious identity and the molestation accusation against him seemed to be an afterthought.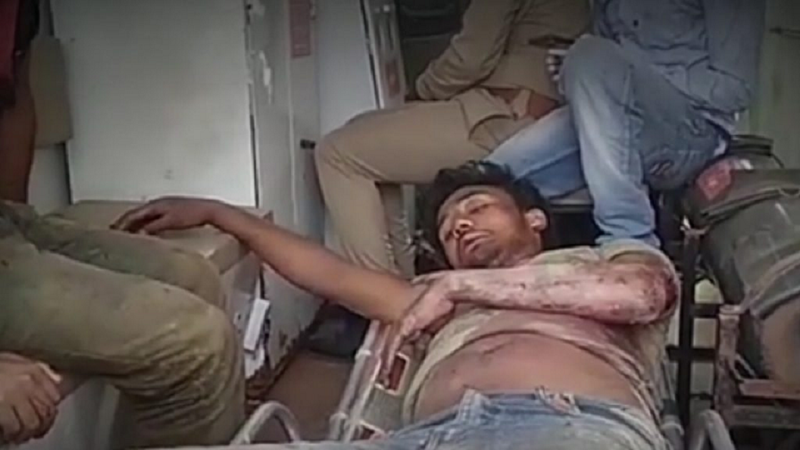 The two attacks were among several instances of anti-Muslim violence in August, but the last month by no means was cruellest for India's biggest religious minority group, with a population of more than 200 million.
Similar attacks were reported in the preceding months too - and many made headlines, the BBC report added.
"The violence is overwhelming. It's rampant and common and also very acceptable," says a freelance journalist Alishan Jafri was quoted in the report as saying. Alishan has been documenting attacks on Indian Muslims for the past three years.
He said that he came across "three-four such videos every day" but is able to verify only one or two which he then shares on social media.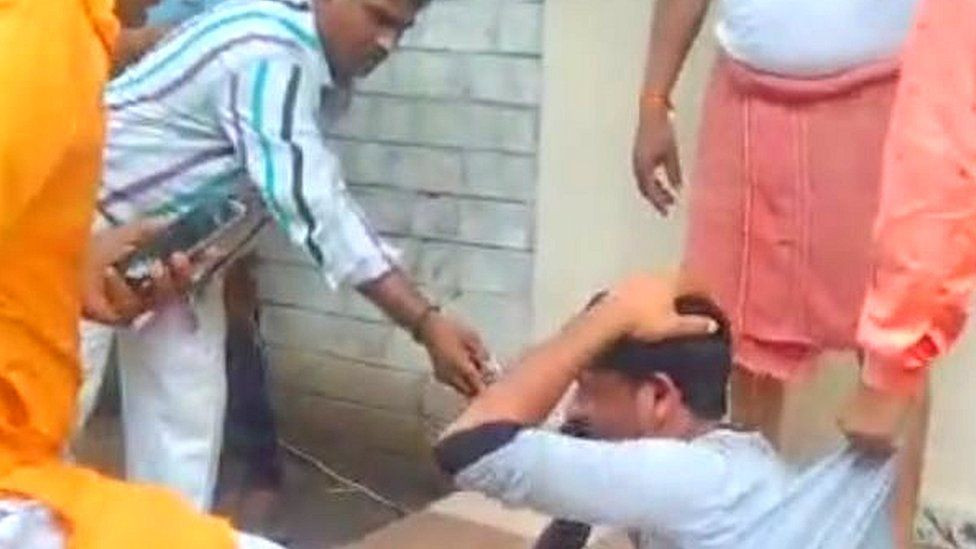 The BBC report quoting critics said that anti-Muslim violence has risen since 2014 under the Hindu nationalist government of PM Modi. "Communal violence is not a recent phenomenon, but it grows in sync with the strategies of those in power and political mobilisation," Prof Tanvir Aeijaz, who teaches politics science at Delhi University, said.
Read: Hindutva mob cuts off elderly Muslim man's beard, beats him to pulp in India
"The distrust was always there but cleavages have been sharpened now by religious nationalism and ethno-nationalism."
During Mr Modi's first term in power, the report added, there were numerous incidents of Muslims being attacked by so-called "cow vigilantes" over rumours that they had eaten beef, or that they were trying to smuggle cows - an animal many Hindus consider holy - for slaughter.
The prime minister did not condone such attacks, but was criticised for not condemning them quickly or strongly enough either.
In 2019, a fact-checker website that counted "hate crimes" in India reported that more than 90% of victims in the past 10 years were Muslims.
And the perpetrators of the attacks remain unpunished amid accusations that they enjoy political patronage from Modi's Bharatiya Janata Party after a government minister garlanded eight Hindus convicted for lynching a Muslim.
Also read: Politics of hate and extremism in India
"Such attacks have become so common in our country today only and only because of the impunity these thugs enjoy," said Hasiba Amin, a social media co-ordinator for the opposition Congress party.
"Today hate has gone mainstream. It is cool to go attack Muslims. The hate mongers are also rewarded for their actions."
BBC report stated that since Modi's return to power for a second term in 2019, the anti-Muslim violence has expanded in its scope.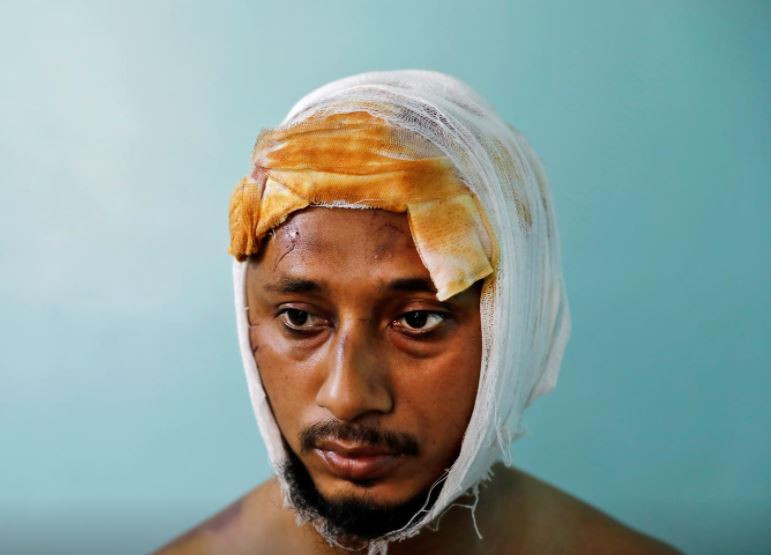 The report said that Muslim women haven't been spared either. "In July, dozens of them found they had been put up "for sale" online. In May, many of them, including Amin of the Congress party, were offered in a mock online 'auction'."
In August, participants at a rally, organised by a former BJP leader in Delhi, shouted slogans calling for Muslims to be killed.
"It's a very sustained, organised campaign by nationalist politicians to radicalise Hindus into believing that Muslims need to be marginalised if Hindus are to progress," said.
Prof Aeijaz said that the attack on working-class Muslims, such as tailors, fruit vendors, electricians, plumbers and bangle sellers, is also an attempt to take control of the political economy and jobs through religious nationalism.
"The religious divide has deepened. The distrust has deepened. But the hate is also for profit. The idea is to make Muslims the other, the enemy.
"The process of creating the other is by propagating the idea that if we don't destroy the other, we will be destroyed. So you stoke hate, create fear, and violence is part of this larger narrative."
But religious nationalism, Prof Aeijaz said, is a dangerous idea that can lead to sectarian violence.
"The buck stops with the political executive in a parliamentary democracy. How long can they look the other way," the report quoted Prof Aeijaz as saying.
COMMENTS
Comments are moderated and generally will be posted if they are on-topic and not abusive.
For more information, please see our Comments FAQ