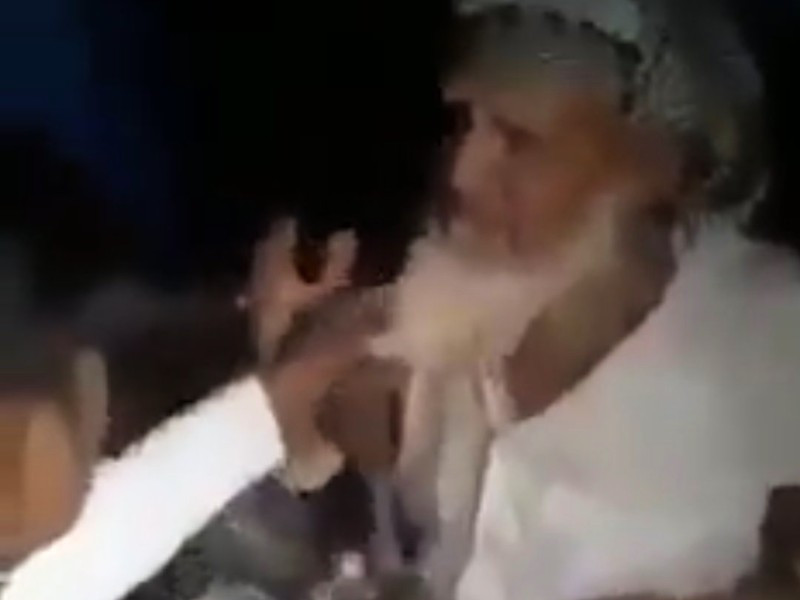 ---
A 72-year-old Muslim man was attacked by a group of Hindu extremists in the Indian city of Ghaziabad, cutting off his beard with a pair of scissors and called him a "Pakistani spy".
In a two-minute video, which went viral on social media over the weekend, Sufi Abdul Samad can be seen beaten with sticks by the attackers, who kidnapped the old man in a rickshaw as he was going to the mosque.
WARNING: This short video contains scenes that may be disturbing for the viewers. Discretion is advised
"He returned to the house in a state of shock on June 5 afternoon. He was shaking and took some time before telling us what happened. His back bore injury marks and his beard was cut, Asif, a relative of Samad, was quoted by The Times of India as saying.
Read more: Hinduism being masqueraded as secularism in India, says AJK president
Asif said that Samad, who was in Ghaziabad city to meet his niece and did not know the routes, was taken to a secluded house where four youths started hitting him with sticks, adding that the 72-year-old told him that one of the men brought a pair of scissors to cut his beard and then forced him to say "Jai Shri Ram" and "Vande Mataram".
According to Samad's relative, the attackers even called the man a "Pakistani spy" and kept hitting him.
Local police said that an FIR had been registered but Samad "had not mentioned anything about being labelled a Pakistani spy or being told to say Jai Shri Ram."
Also read: Politics of hate and extremism in India
"The victim after lodging FIR left for Bulandshahr. In the FIR, he did not mention that he was made to chant 'Jai Shri Ram' and 'Vande Matram'." The FIR, incidentally, also does not mention Samad's beard being cut by the attackers," said Ghaziabad SP Iraj Raja.
Raja admitted that the video clearly showed that Samad's beard had been chopped off. "But the video is inaudible, so we cannot say for sure whether he was made to say that (Jai Shri Ram), he added.
He further said that one of the men who had assaulted Samad has been arrested while another has been identified.