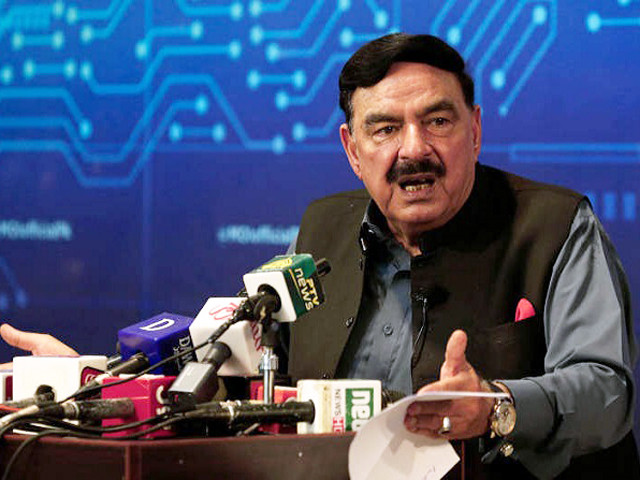 ---
ISLAMABAD:
Interior Minister Sheikh Rashid on Thursday said the Chaman border could be closed down for a short period of time because of security concerns.
"Because of some security threats, there is a possibility that for a short time or for a few days or for a while we will shut the Chaman border," he told reporters after inaugurating the newly constructed building of Noon Police Station here.
Pakistan wanted peace in Afghanistan, he said, adding that around 2,686 kilometres of border area has been fenced.
Rashid was of the view that Pakistan's role in the region was emerging and gaining importance and that time had come to take the country forward. "However, we will not allow chaos to spread. There are no Americans left in Pakistan. Those who came have left," he added.
Read Contingency plan to deal with arrival of Afghan refugees
The minister said that 9,000 people out of the 10,000 who came to Pakistan from Afghanistan had returned to their home countries.
The interior minister added that the situation at the Torkham border was normal.
According to Rashid, after observing the situation in Afghanistan Prime Minister Imran Khan has bestowed the responsibility of the interior ministry upon him.
The nation is proud of Pakistan Army, Inter-Services Intelligence, and the Military Intelligence, Rashid said.
"India is currently mourning the situation in Afghanistan, and the politics of the Indian spy agency Research and Analysis Wing (RAW) and Afghanistan's National Directorate of Security (NDS) is over," he added.
Read Nawaz should come back, says Rashid
Rashid said that it was a sign of satisfaction that there was no sign of crisis or bloodshed in Afghanistan and the situation seemed under control. Pakistan was supporting the foreigners' evacuation after the takeover of the Taliban in Afghanistan on humanitarian grounds, he added.
He elaborated that the federal government had allowed 600 Japanese while it would grant a 21-day transit visa if anyone asked for it.
Opposition
On Pakistan Muslim League-Nawaz President Shehbaz Sharif's recent comments, Rashid said that the idea of a national government was "absolute nonsense".
"There is a difference between national reconciliation and a national government; we are ready for national reconciliation," he said.
The interior minister stated that there was no long march at present and those who demand it should sit together and take the country forward.
"The opposition should march with enthusiasm. The government will take steps within its jurisdiction. Anarchy and disorder will not be allowed in the country," he added.
COMMENTS
Comments are moderated and generally will be posted if they are on-topic and not abusive.
For more information, please see our Comments FAQ