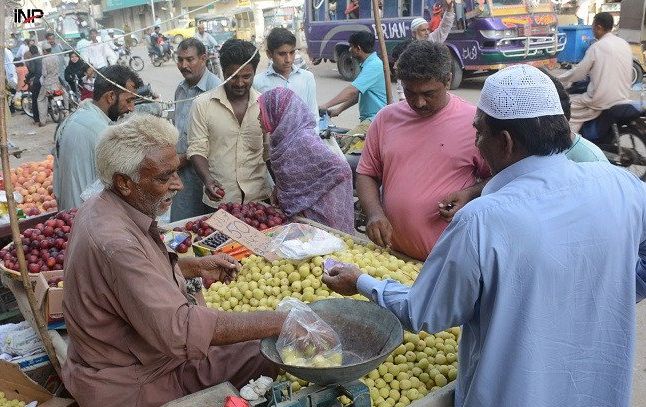 ---
Misinformation puts city's markets at risk
Vendors, shopkeepers reluctant to inject 'foreign drug' as Covid lurks in busy streets, bazaars
---
KARACHI:
As Karachi gradually inches towards resuming normalcy after several incremental lockdowns and closures, markets in the port city are still feared to be harbouring a ticking time bomb of superspreader events.
Crowded bazaars and marketplaces in the financial capital's narrowest allies, where social distancing is hard to hammer, can experience a daily footfall of hundreds and thousands. Despite the catalytic conditions, shoppers and shopkeepers here still appear to be hesitant about receiving their anti-coronavirus jabs.
Per a survey conducted by The Express Tribune, areas most vulnerable to a new outbreak include regions like Orangi Town, Landhi, Korangi, Liaquatabad, Malir, Moosa Colony, Mujahid Colony, Site, Shershah, Kemari, Macchar Colony, Ranchhor Line, PIB, Nishtar Road, Gulshan-e-Hadeed and Gulshan-e-Maymar. Public in market places here, severely influenced by misinformation and anti-vaxxer propaganda, choose to gamble their life and safety rather than roll their sleeves for a 'foreign drug.'
Pakistan Medical Association Secretary General Dr Qaiser Sajjad, believes that the low receptiveness of vaccines is the primary reason for the mega-city's unending battle with Covid-19. Based on which, Sajjad had earlier proposed the introduction of mobile vaccination services in target areas, which have been operating for several weeks now.
However, despite greater outreach, lack of awareness has remained a major stumbling block for vaccine administration in certain communities. For instance, a majority of people living in aforementioned localities belong to middle and low-income groups, with many self-employed or associated with small businesses that fall out of the authorities' constant supervision. Owing to which, despite the government enforcing mandatory vaccination for job holders, students and government servants, it appears that daily-wagers, blue-collar workers and small business owners have managed to slip out of the immunisation net.
The city's Paan shops, which tend to be the busiest after dark, catering to tens and thousands of tobacco consumers from small kiosks, have been observed to be another outlet for the spread of the infectious disease.
Routine consumption of tobacco already puts Paan shop regulars at a higher risk of contracting Covid-19, which attacks their compromised immune and respiratory systems. Owing to which, the said section is also likely to experience more severe effects of the infection, with increased risk of hospitalisation and death.
According to Rashid Kachhi, who operates a Paan shop on the corner of a busy Kemari street, he's never seen SOPs being implemented by any of the customers at his kiosk, or any other Paan shop for that matter. "Coronavirus doesn't exist in our version of the world. If a mention of vaccination ever comes up, there's hardly anyone who pays any heed to it," he claimed.
Similarly, Qudratullah, who is a table-worker at a Nishtar Road tea house revealed that even during the worst of Covid-19, he'd rarely come across someone wearing a mask at the popular joint. "I myself have not been vaccinated," the table-worker confessed. "If I am being honest, I have been told that the vaccine has poison in it and I just can't risk my life," he sheepishly added.
Anti-vaxxer influence appears to hold most ground in the metropolitan's busiest of areas. In many cases, those who somehow do manage to get the vaccine are constantly spooked by friends and fellows about its alleged consequences.
Kamran Qureshi, who is a butcher from the city's Line's Area, said that although he's been vaccinated, his fellow butchers have remained hesitant of life-saving drug. "Not a day goes when I don't hear talks about the killer vaccines, which is very discouraging and also scary," he expressed.
Speaking in the regard, Karachi Trader Union President Atiq Mir said that it is the responsibility of the federal and provincial governments to launch an effective awareness campaign for traders in coronavirus-prone areas. "For which, the government will need to join hands with the business community and market organisations," he asserted.
In response to Mir's statement, Sindh Information Minister Saeed Ghani maintained that the province has made significant progress in its mass immunisation campaign. ". We are trying to get people from all walks of life to get vaccinated, for which we will soon launch more awareness drives," he told The Express Tribune.
Published in The Express Tribune, September 2nd, 2021.