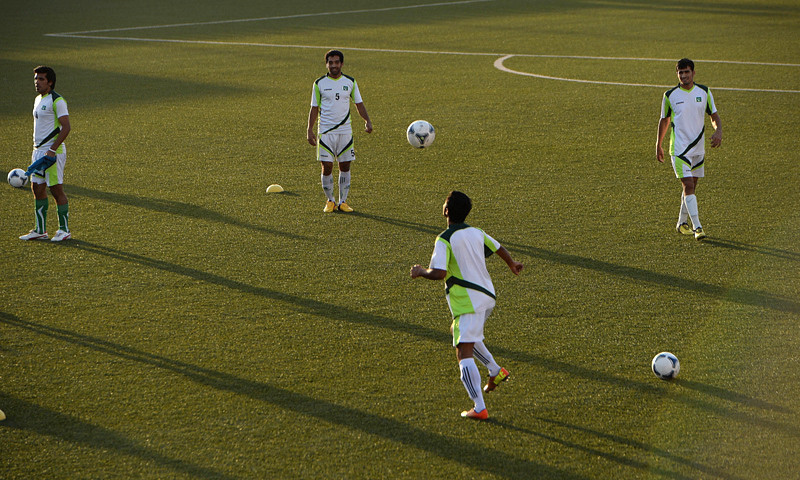 ---
KARACHI:
Pakistan football is more controversy and less management and the people suffering the most are players, who are now looking at local tournaments to save the day.
Hope is diminishing for the Pakistan Football Federation (PFF), which was first being run by the Fifa-appointed Normalisation Committee before the setup was disrupted by Syed Ashfaq Hussain Shah group. Ashfaq and co were elected in PFF in December 2010 through a Supreme Court-ordered election, and they then forcefully took over the headquarters claiming to be the rightful office-bearers. And now the group have signed a 15-year deal with Global Soccer Ventures (GSV).
The venture is run by Zabe Khan, who has had decent amount of experience in Pakistan football with his stint as the man behind K-Electric's impressive success before 2015 in the Pakistan Premier Football League.
From 2015 onwards the PFF saw the worst of the times with nothing significant happening on the field for players due to the political drama.
The women's team have not played an international event since 2014, whereas the men's side played few tournaments since 2018, including South Asian Football Federation Cup and Fifa World Cup qualifiers in 2019. However, the irony remains that politics won despite Fifa appointing a Normalisation Committee in September 2019 to hold free and fair elections from district to the provincial level and then that of the PFF Congress.
However, Shah's group, which initially welcomed the NC leadership, came back to claim their right in March this year during the National Women's Championship. They stated that they do not trust the Fifa-appointed NC as they have their own vested interests. According to Shah and co, the NC chief Haroon Malik was eager to have his own franchise league.
However, Pakistan has never had a professional league structure. The PFF never turned the setup from departmental system into a proper league.
"My inspiration is for the players. I have given more than 14 years of my life to football and I have seen their pain and anguish. I have seen destruction of football because it was run by men who have no clue about football," Khan told The Express Tribune, while answering the questions sent over to him. "My inspiration is to see Pakistani players thrive one day in Europe. The real stakeholders of football are the players, referees and coaches, who are clutching at straws to keep football running. Our sole purpose is to give them a platform and revive domestic football fever first."
The criticism remains that franchise league is not the solution, but Khan believes his brainchild – the Pakistan Football League – may just be the answer. A dream he says he had been chasing for years and he feels that it can change the trajectory of football and footballers of Pakistan into something more professional.
Khan, with marketing the PFL, has brought in former Manchester United FC Managing Director Mike Farnan on board and the PFL promises the construction of infrastructure. They further promise to building communities along with sending players abroad to play in leagues.
The question remains that how can a league like this prosper in a country that is already banned by Fifa and it can only be lifted once the NC takes the control. Khan, meanwhile, has signed a deal with Afshaq's group, which makes this whole affair a tricky one.
Khan feels that PFL will thrive regardless as the country's football has already hit rock bottom.
"Football has no boundaries. My senior leadership has the confidence in Pakistan. I believe in Pakistan and the international stakeholders and clubs we are working with have the trust in our professionalism to deliver. There are no hurdles. Hurdles will be created by those who have failed to stop us and don't have it in them to deliver what we can. Our players will play with active players from around the world in Pakistan. PFL is designed to offer our players the opportunity, which they never received in the last 60 years."
Khan is unperturbed by the PFF affairs, "I have no comment on PFF. They are a public body and we are private sector. We will support whoever is right for Pakistan and is working according to the mandate given to them. The current group elected is recognised by the Supreme Court of Pakistan, so we have no issues working with anyone, but above all, we are working for football. We are an independent private group looking to change the domestic football landscape by injecting investment in the right places for football."
Khan said that he has been nurturing this idea for PFL for more than five years and now his vision is to uplift the sport and the players through systemic changes.
City-based league
The PFL is marketed to be a city-based league and Khan said that the format will generate interest and satiate the need for good competition too, along with identifying talented players.
"Yes, it is all about city based rivalry. Football needs fans, stadiums and cash. We are stitching all of it for Pakistan. There are a lot of cities which are a hot bed for football in Pakistan. Karachi alone has about 600 clubs and football is played in every city in Pakistan. But we are aiming to harness the football potential in every city as soon as the first season of this league starts."
Khan said the Technical Study Groups will be made to study the players and their progress along with employing data-based analysis.
But the notion to have franchise league in Pakistan had been floating around for a long time, especially many idolising the Indian Super League, which has proven to be a faulty format for players and more beneficial for the already rich investors.
Khan does not see PFL in the same light. He defends, even the stagnation after a point, by saying: "We will be adding teams as the league moves forward. This model has been successful in US, Australia and India."
He added that he is receiving requests of team ownership in PFL from different places. "I am totally inundated with requests. I wish I had more than six teams to float. There are groups from Canada, UK, the US, the UAE and also from within Pakistan."
COMMENTS
Comments are moderated and generally will be posted if they are on-topic and not abusive.
For more information, please see our Comments FAQ