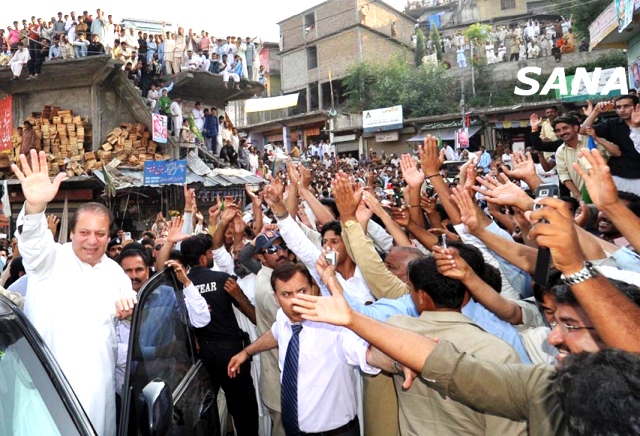 ---
LAHORE: President Asif Ali Zardari's speech has left a lot of people "bewildered" as the manner in which he had spoken at a function to mark Benazir Bhutto's birth anniversary was inappropriate and unsuitable to his stature, Pakistan Muslim League-Nawaz chief Mian Nawaz Sharif commented on Tuesday.

Addressing a party meeting held in connection with PML-N's re-organisation on Tuesday, Sharif said that it was odd that President Zardari was unable to outline a public welfare agenda or policy, adding that he did not even mention how he intended to eliminate corruption.

Sharif said that people knew the PML-N's commitment to deliver, and his party was also determined to serve them.

His party, he said, had done its "homework in all fields, including education, health, agriculture, industries, trade and investment. If it gets a chance to rule the country, there would be certain changes in people's lifestyles".

Criticising the government's dilly-dallying tactics, he said it was deliberately delaying implementation on judicial decisions. Terming the judiciary an independent entity, he said it was now filled with "honest and sincere judges".

Previously, he said, judges had not played their proper role and also "supported dictators".

Nawaz Sharif said more than 56 cases of fake degrees had been found during the Musharraf regime but the Speaker of the National Assembly had not taken any step against them. "But PML-N will never compromise on this issue." He said that he had asked his party's lawmakers to resign if they were "found to have bogus documents".

He said that PML-N "believes in transparent politics and it respects mandates of other parties. Others should also respect our mandate." He said that only a "soft revolution" could address Pakistan's problems.

According to him, the PML-N is committed to eliminating corruption, injustice, unemployment, inflation and power outages.

He said that there "has been no political and economic progress since a dictator toppled an elected government (in 1998)".

Sharif said that it was unfortunate that this government was also involved in "scandals and corruption" and there are doubts about the government's performance.

He said the country is suffering the consequences of violating the Constitution and the law. "The entire nation is paying the price."

Stressing that the country can no longer afford destabilisation of democratic governments, he said: "Our non-democratic ways were the reason why the former East Pakistan parted ways with us."

The participants decided to hold a party meeting soon to discuss PML-N reorganisation in Balochistan.

Prominent among those present on the occasion included Raja Zafarul Haq, Ghouse Ali Shah, Sardar Mahtab Abbasi, Syed Mamnoon Hussain, Iqbal Zafar Jhagra, Ahsan Iqbal, Pervez Rashid, Khawaja Saad Rafiq, Salim Zia, Hamza Shahbaz and Zulfiqar Khosa.

Published in The Express Tribune, June 23rd, 2010.
COMMENTS (1)
Comments are moderated and generally will be posted if they are on-topic and not abusive.
For more information, please see our Comments FAQ