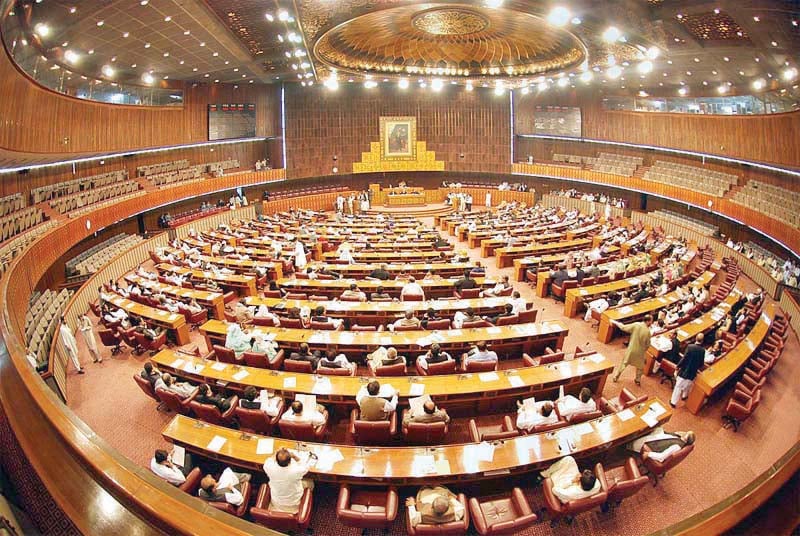 ---
ISLAMABAD:
National Assembly Speaker Asad Qaiser said on Wednesday that a joint session of parliament would be convened early next month to deliberate upon the evolving circumstances in neighbouring Afghanistan.
Speaking to reporters after a meeting with the chairman of the Senate, Asad Qaiser said that the joint sitting would take place at the end of the parliamentary year in the first week of next month.
Asked why the Afghan situation had not come under a proper discussion in the National Assembly, Qaiser said that in-camera sessions had already been held to discuss the issue.
"I intend to take the opposition into confidence on the issue of Afghanistan in September and take on board all concerns and views in a joint meeting or in a meeting of the National Security Council," he added.
Read Peaceful Afghanistan vital for Pakistan and regional stability, Imran tells Putin
Major opposition parties in parliament, expressing serious concerns over the situation in Afghanistan, have been asking the government to immediately summon a joint session of parliament.
They seek a two-day joint session on the Afghanistan situation before the presidential address to the joint sitting for formally initiating the fourth parliamentary year of the National Assembly.
Last week, the Senate Defence Committee, while asking the government to convene a joint session of parliament, urged the government to take parliament into confidence by immediately convening a joint session to discuss the situation and propose a way forward so that Pakistan and Afghanistan can be partners in peace and progress.
COMMENTS
Comments are moderated and generally will be posted if they are on-topic and not abusive.
For more information, please see our Comments FAQ