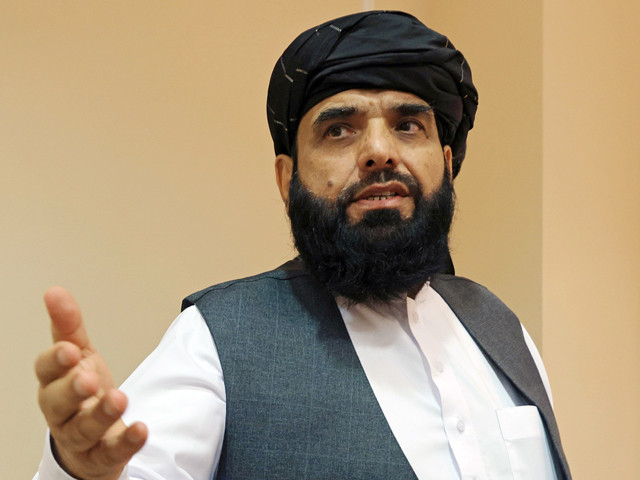 ---
A Taliban spokesperson has said that the group takes its decisions in its own interests and values and not under the influence of Pakistan and expressed the hope that a new government, consisting of all Afghan representatives would be formed soon
Sohail Shaheen, the group's spokesperson at the Taliban Office in Doha, Qatar, said in an interview with a news website that the group would no longer allow any activity from Afghanistan aimed against Pakistan.
"We take our decisions in light of our national interests and values," Shaheen said. "Pakistan has no influence over the Taliban. This is a false accusation of the past which we have repeatedly denied over the last 20 years," the spokesperson added.
Referring to the banned Tehreek-e-Taliban Pakistan (TTP), Shaheen said that "our policy on taking action against any other country from Afghanistan is clear". He added: "If anyone takes action, it will be against our policy."
Shaheen said that Taliban would form a government that would consist of all Afghan representatives. The new government may be similar to the previous Taliban regime, headed by a 'Raeesul Wuzra' [prime minister], he added.
Read More: Taliban commission to investigate Pakistan's TTP concerns
"Afghan politicians are being consulted for this, the spokesperson continued. "The formation of the government has taken a long time but hopefully an announcement will be made soon," Shaheen added.
When asked about the Afghan constitution and the rights of people, particularly women, the spokesperson said that the former constitution of Afghanistan was made under foreign occupation therefore, a new constitution was required.
"Afghanistan needs a constitution that is made in an independent Afghanistan and in the interest of all the Afghans," he said. "We will draw a new constitution and it will include the rights of all men and women."
Pressed further on the women's rights, Shaheen said that the Afghan women during the Taliban regime would be free to choose whether they want to cover their faces or not. He pointed out that women working in the media outlets across the country wear scarves while some use veils.
On the other hand, in a meeting with foreign journalists in Kabul, Zabihullah Mujahid said that the media was fully allowed to operate in Afghanistan. However, he cautioned the journalists to be careful because of the current situation in the country.
Mujahid told reporters that when a government was formed in Kabul, "we will facilitate the movement of journalists". He added that a three-member team was also being formed for the convenience of journalists.
COMMENTS
Comments are moderated and generally will be posted if they are on-topic and not abusive.
For more information, please see our Comments FAQ