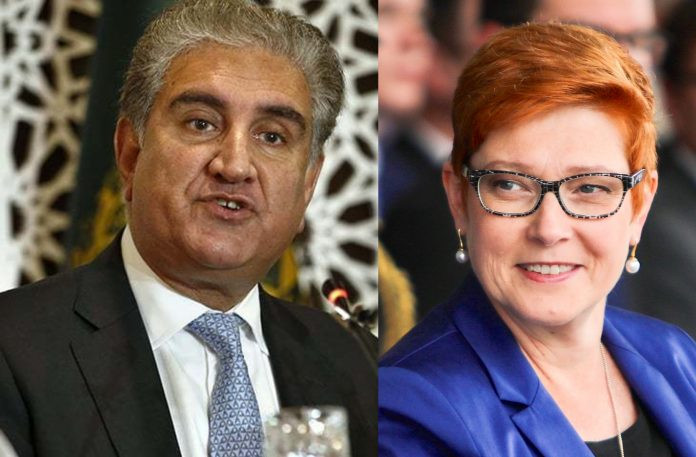 ---
ISLAMABAD:
Foreign Minister Shah Mahmood Qureshi stressed on Tuesday that it was essential for the world community to support the people of Afghanistan and address the humanitarian situation and facilitate economic sustenance.
The foreign minister's remarks came during a telephonic conversation held with his Australian counterpart, Marise Payne, wherein the two top officials discussed the current situation in Afghanistan.
FM Qureshi shared Pakistan's perspective on the inclusive political settlement in Afghanistan.
He highlighted Pakistan's efforts in facilitating the evacuation of the diplomatic personnel and staff of international organisations and others from Afghanistan.
In the bilateral context, the foreign minister said Pakistan highly valued its relationship with Australia that depends on several strands of collaboration, including political, economic and cultural.
Expressing satisfaction at the current level of engagement, the two foreign ministers agreed on enhancing high-level interactions between the countries.
The Australian foreign minister appreciated the government of Pakistan for its support and facilitation extended to the countries in evacuation from Afghanistan.
Read Afghanistan debacle marks demise of the 'American Century'
Earlier, Minister Qureshi said Pakistan was working for an inclusive, broad-based arrangement in Afghanistan to further peace and stability in the neighbouring country.
"The views of the international community are in sync with the thinking of Pakistan on the present situation in Afghanistan," said the minister while addressing a news conference.
Qureshi said he held conversations with a number of foreign ministers in previous days and they acknowledged that Pakistan was playing a vital and critical role in these challenging times.
The world was looking towards Pakistan and it wanted help in evacuating their nationals from Afghanistan, he said, adding very few embassies were working in Kabul and the Pakistani embassy was one of them.
"We are keeping an eye on the situation in Afghanistan," he said, adding the international community wanted Pakistan to promote an inclusive arrangement in Afghanistan.
Afghanistan has a number of ethnic groups which have a role to play, he explained.
In recent days the foreign minister spoke about the situation in Afghanistan to the high representative of the European Union, foreign ministers of Germany, Netherlands, Denmark, Sweden, Turkey, Saudi Arabia, Secretary of State of United States Antony Blinken, Secretary General Organization of Islamic Cooperation (OIC).
COMMENTS
Comments are moderated and generally will be posted if they are on-topic and not abusive.
For more information, please see our Comments FAQ