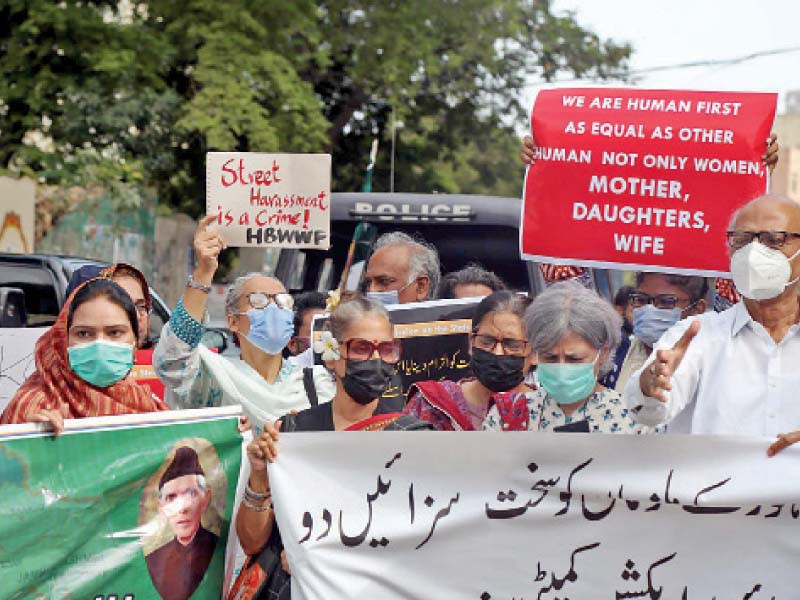 ---
KARACHI:
Scores of women and allies staged a protest outside the Karachi Press Club on Friday reacting to the sexual assault and harassment of a woman and her companions by a crowd of over 400 men at Lahore's Greater Iqbal Park on Independence Day. The protestors demanded action against the perpetrators and condemned the failure of state institutions at providing safety and protection to women.
News of the horrific assault broke out on social media when several videos of the incident went viral three days after the attack. The videos showed hundreds of men sexually assaulting, groping and picking up a young Tick Tocker, who was in the park with her friends to record a video, tossing her between them and tearing her clothes.
"Hum le ke rahenge azadi! [We will have our freedom]" and "Aurat ke khilaf zulm band karo [Stop violence against women]," shouted protestors outside the KPC. They carried banners and placards and shouted slogans calling for women's rights to safety, dignity, protection, public space and other fundamental rights. Patriarchal and misogynist attitudes perpetuating a hostile culture towards women and vulnerable sections of society were denounced.
The assault by hundreds of men is one of the several crimes against women that have been reported in recent months. Rights activists, advocacy and research organisations have highlighted that in most instances cases of violence against women frequently go unnoticed and underreported.
"We will come on the roads. We will protest. We will demand our due rights until the government ensures security to women and plays a part in shunning such incidents," said veteran activist Sheema Kermani.
After the videos went viral on social media drawing condemnations from various segments of society, the police lodged a case against 300 to 400 unidentified men and launched a probe.
Since August 14, the police have managed to trace and detain 24 men after geofencing of the park and matching records from the National Database and Registration Authority (NADRA), according to Federal Human Rights Minister Shireen Mazari.
Most perpetrators of violence against women and children are not properly dealt with and punished by the law, pointed out Naghma Sheikh, a protestor, speaking to The Express Tribune. She elaborated on the culture of immunity that is prevalent in our society for such crimes. "It's a reflection of Prime Minister Imran Khan's words for women," she said, referring to recent statements by the prime minister that have been criticised for shifting blame onto victims instead of perpetrators.
Imran has repeatedly been criticised for his views on violence against women and statements suggesting that rape and assault are somehow tied to a woman's dress or behaviour. "If a woman is wearing very few clothes it will have an impact on men unless they are robots," Imran said in an interview in June. "If you raise temptation in society to a point - and all these young guys have nowhere to go - it has a consequence in society," he was quoted as saying.
His statements invited backlash from civil activists, politicians, journalists and rights groups.
Sheikh pointed out that even in this case victim blaming and scrutiny of the woman's actions started soon after the news broke. "This [culture] should be stopped now."
"The society [public spaces] are for everyone. There should not be any gender-based discrimination," said Qazi Khizer, a participant associated with the HRCP. "It is the prime responsibility of the state to look at such cases. Political parties [should] also ponder over it as such incidents have been reported in political gatherings as well."
The protestors included representatives of at least 28 rights-based organisations, including the Human Rights Commission of Pakistan, the Aurat Foundation, Aurat March, Tehreek-e-Niswan, Women Action Forum, Home Based Women Workers Federation and the Pakistan Institute of Labour Education and Research.
Rights, gender and labour activists such as Mehnaz Rehman, Karamat Ali, Farhat Parveen, Dr Tipu Sultan, Nasir Mansoor and scores of citizens participated in the demonstration.
Published in The Express Tribune, August 21st, 2021.
COMMENTS
Comments are moderated and generally will be posted if they are on-topic and not abusive.
For more information, please see our Comments FAQ