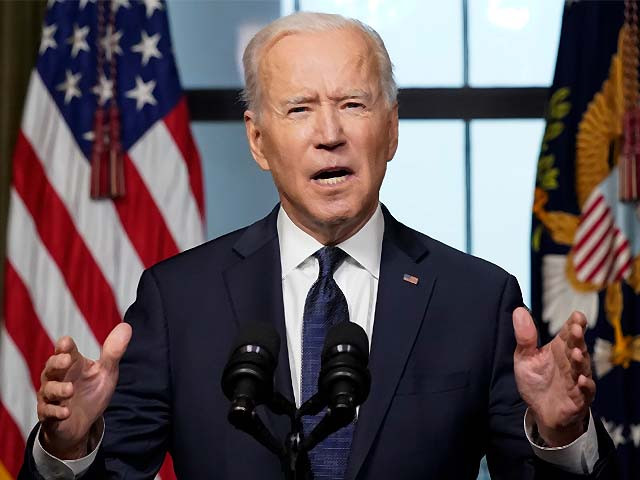 ---
WASHINGTON:
The Taliban must decide whether they want to be recognised by the international community, US President Joe Biden said in an ABC interview aired on Thursday, adding that he did not think the group had changed its fundamental beliefs.
Asked if he thought the Taliban had changed, Biden told ABC News, "No."
"I think they're going through a sort of existential crisis about: Do they want to be recognised by the international community as being a legitimate government? I'm not sure they do," he said, adding that the group appeared more committed to its beliefs.
But, he added, the Taliban also had to grapple with whether it could provide for Afghans.
"They also care about whether they have food to eat, whether they have an income that ... can run an economy, they care about whether or not they can hold together the society that they in fact say they care so much about," Biden said in the interview, taped on Wednesday. "I'm not counting on any of that."
Also read: Taliban announce creation of Islamic Emirate of Afghanistan
He also added that it would take economic and diplomatic pressure — not military force — to ensure women's rights.
Biden said US troops may stay in Afghanistan past an Aug 31 deadline to evacuate Americans.
"If there's American citizens left, we're going to stay until we get them all out," he said in an interview.
Biden has come under fierce criticism for his handling of the withdrawal, which in recent days has been dominated by scenes of chaos in and around the Kabul airport with people desperately trying to get out of the country.
Biden defended his decisions, saying problems were inevitable in ending the 20-year US involvement there.
"The idea that somehow, there's a way to have gotten out without chaos ensuing, I don't know how that happens," he said.
He also said the Taliban is cooperating for now in helping get Americans out of the country but "we're having some more difficulty" in evacuating US-aligned Afghan citizens.
COMMENTS
Comments are moderated and generally will be posted if they are on-topic and not abusive.
For more information, please see our Comments FAQ