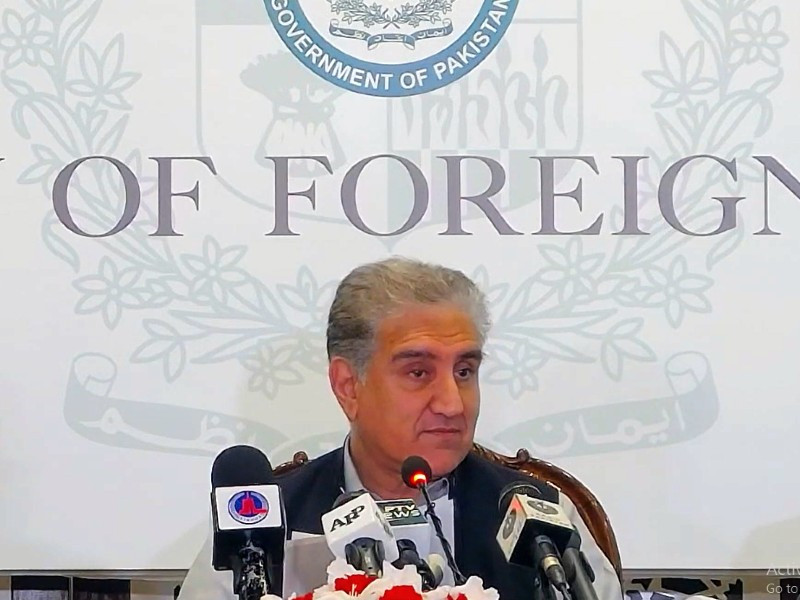 ---
ISLAMABAD:
Foreign Minister Shah Mahmood Qureshi said on Wednesday he will undertake a visit of regional countries including Iran, Uzbekistan, and Tajikistan to hold consultations on the evolving situation in Afghanistan.
Meanwhile, he urged all Afghans to work together for "an inclusive political settlement" stressing that a peaceful and stable Afghanistan was of critical importance for Pakistan and the region.
Qureshi received a telephone call from the Chinese State Councillor and Foreign Minister Wang Yi and exchanged views with him on the evolving situation in Afghanistan. During the conversation, Qureshi called for ensuring safety and security as well as protection of the rights of the Afghan people.
The foreign minister said that Pakistan and China, as part of Troika Plus – which also includes the United States and Afghanistan – had made valuable contributions to the efforts for durable peace in the war-torn country.
"Pakistan had assiduously supported the Afghan peace process," he told Wang.
Kabul fell to the Taliban on Sunday, without any bloodshed, and several countries opted to shut down their missions and ordered immediate evacuations, causing panic.
The chaotic scenes at the Kabul international airport have further exacerbated the situation in the Afghan capital.
"In the given situation, it is extremely important to ensure safety and security as well as protection of rights of the Afghan people," Qureshi said.
"An inclusive political settlement is essential, for which all Afghans should work together," he added.
At the same time, the foreign minister emphasised that it was equally important for the international community to remain engaged in support of the Afghan people. He emphasised that the international community must have sustained economic engagement with Afghanistan.
The foreign minister apprised his Chinese counterpart of Pakistan's efforts to facilitate the evacuation of personnel and staff of diplomatic missions, international organisations, media and others from Afghanistan.
Read Stable Afghanistan critical for regional peace, Qureshi tells Chinese FM
Qureshi and Wang agreed to remain in close contact to promote the shared objectives.
Later, talking to reporters in his hometown Multan, Qureshi said that he had held talks with Chinese, US and British officials on the ongoing situation in Afghanistan. He said that he would visit the regional countries, including Iran, Tajikistan and Uzbekistan after Muharram to discuss the Afghan situation.
"Afghanistan's ongoing situation is being observed by the whole world," the Foreign Minister told reporters. He suggested a comprehensive discussion on Afghanistan's current situation among all neighbouring countries.
Qureshi appeared satisfied with the situation in the neighbouring country so far.
"All operations and activities reported in Afghanistan so far remained peaceful which is a good sign. There was fear of bloodshed in Afghanistan but it did not happen," he said.
"Taliban have said there will be no revenge and they have announced a general amnesty for everyone," Qureshi continued.
"The reports from Afghanistan are satisfactory as the businesses and offices are being opened there."
He pointed out that there were apprehensions about the ban on girls' education for girls but the Taliban had not imposed any ban on female education.
"The ongoing situation totally negates the propaganda launched by the [former] Ashraf Ghani's government," he said.
Qureshi added that a pre-planned blame game was launched against Pakistan but the evil designs of those elements had been defeated.
"Now the world is contacting Pakistan," he said.
He admitted that being a neighbour, the issues of Afghanistan had always affected Pakistan in the past.
The foreign minister also said that there was no pressure at Torkham and Chaman borders at present.
He criticised India for not allowing Pakistan to express the country's viewpoint at the United Nation Security Council session and termed it a narrow-mindedness of the Indian side.
Meanwhile, Pakistan's Ambassador to Afghanistan Mansoor Ahmad Khan returned to Kabul after his official engagements in Islamabad and held back-to-back meetings with his counterparts from China and Russian in the Afghan capital.
During the meetings with ambassador Wang Yu of China and Dmitry Zhirnov of Russia, the latest situation in Afghanistan was discussed.
They agreed to cooperate on restoring peace in Afghanistan and restoring law and order in the country.
COMMENTS
Comments are moderated and generally will be posted if they are on-topic and not abusive.
For more information, please see our Comments FAQ