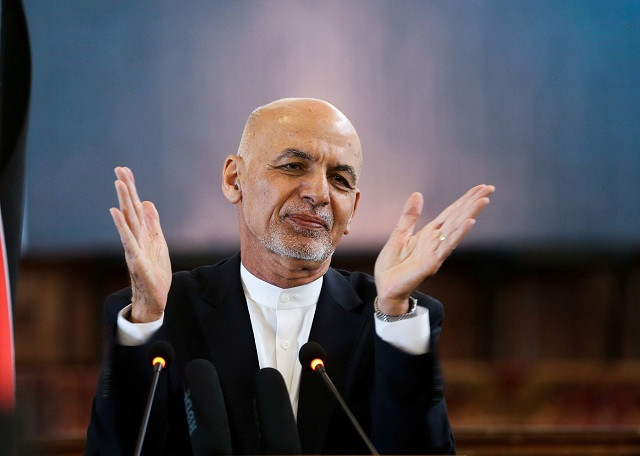 ---
Afghanistan's former president Ashraf Ghani is in the United Arab Emirates (UAE), its foreign ministry confirmed in a statement Wednesday.
"The UAE Ministry of Foreign Affairs and International Cooperation can confirm that the UAE has welcomed President Ashraf Ghani and his family into the country on humanitarian grounds," the statement issued by the UAE's Foreign Ministry said.
Ghani, along with his close aides, flew out of Afghanistan on Sunday, paving way for the Taliban to regain power 20 years after a US-led military invasion ousted them.
Also read: Afghan embassy urges Interpol to arrest Ghani for 'stealing public wealth'
The Afghan president said that he left in order to avoid clashes with the Taliban that would endanger millions of Kabul residents.
However, he did not disclose details on his location.
Russia's embassy in Kabul said on Monday that Ghani had fled the country with four cars and a helicopter full of cash.
Meanwhile, Afghanistan's embassy in Tajikistan has reportedly demanded Interpol police to arrest the former Afghan president and his aides on charges of stealing public wealth so that funds could be returned to Afghanistan.
Also read: Taliban pledge peace, women's rights
On Tuesday, the Afghan Taliban had said they wanted peaceful relations with other countries and would respect the rights of women within the framework of Islamic law, as they held their first official news briefing since their shock seizure of Kabul.
Moreover, the Taliban's co-founder returned to Afghanistan on Tuesday, as a top spokesman insisted the insurgents will not seek "revenge" and declared a general amnesty.
Mullah Abdul Ghani Baradar's arrival from Qatar -- where he has spent months leading talks with the United States and then Afghan peace negotiators -- crowns an astonishing comeback for the Taliban.
The Taliban announcements, short on details but suggesting a softer line than during their rule 20 years ago, came as the United States and Western allies resumed evacuating diplomats and civilians the day after scenes of chaos at Kabul airport as Afghans thronged the runway.
As they rush to evacuate, foreign powers are assessing how to respond to the transformed situation on the ground after Afghan forces melted away in just days, with what many had predicted as the likely fast unravelling of women's rights.
"We don't want any internal or external enemies," the movement's main spokesman, Zabihullah Mujahid, said. Women would be allowed to work and study and "will be very active in society but within the framework of Islam", he added.
COMMENTS
Comments are moderated and generally will be posted if they are on-topic and not abusive.
For more information, please see our Comments FAQ