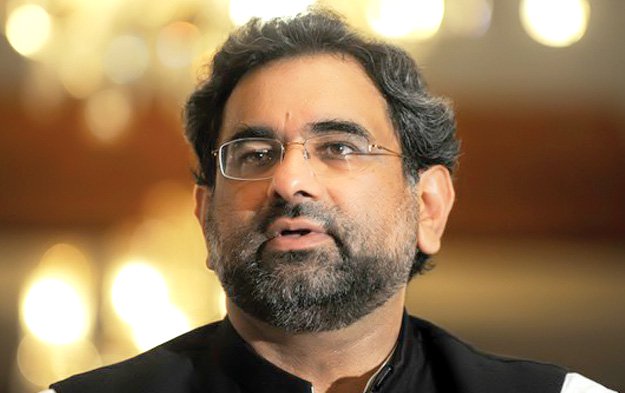 ---
ISLAMABAD:
The Pakistan Muslim League-Nawaz (PML-N) on Friday denounced the report released by the government earlier this week regarding manipulative use of social media accounts to malign Pakistan, terming it "shoddy, misleading and based on assumptions".
However, Federal Minister for Information and Broadcasting Fawad Hussain in a statement refuted the allegations levelled by the PML-N, saying that nobody from Pakistan was declared anti-state in the digital media wings (DMW)' analytic report.
Addressing a news conference, PML-N senior leader Shahid Khaqan Abbasi flanked by other party leaders, said that the PTI government had declared its opponents 'anti-state' in the report for exposing its incompetence.
Earlier this week, National Security Adviser (NSA) Moeed Yusuf, while referring to "Deep Analytics Report" on "Anti-State Trends", said that many Indian and Afghan social media accounts were involved in defaming Pakistan.
Moeed, addressing a news conference alongside Information Minister Fawad Chaudhry, had said that many trends created against Pakistan on Twitter and other social media platforms were by bots and many in Pakistan retweeted them and became part of propaganda.
Reacting to the NSA's claims, Abbasi in Friday's presser said political opponents were being labelled as anti-state and traitors merely for criticising incompetence of the government.
While casting doubts on the report, Abbasi said the information ministry acquired data from Canadian company and they also did not analyse the content of the tweets.
"They [government] do not even know that the tweets mentioned in the report were against or in favour of Pakistan," he added.
Read Ministers lambast opposition's anti-state rhetoric
The former PML-N premier lashed out at the ruling PTI for accusing opposition parties of maintaining links with hostile agencies. He said such reports are being published to divert the public's attention from real issues like prevailing situation in Afghanistan.
"In every martial law era, political parties were called enemies of the state... the so-called democratic government is also making similar allegations," Abbasi added.
Quoting a local TV channel, Abbasi said the Canadian firm had denied selling any data to the Pakistani government.
He said Reham Khan, former wife of Prime Minister Imran Khan, PPP's Farhatullah Babar, ANP's Bushra Gohar and many other opposition lawmakers were declared as "anti-state elements" by the "selected government".'Nobody from Pakistan listed in the report'
Responding to the PML-N's allegations, federal minister Fawad Hussain hit back at the rival party for its "lack of knowledge" about the latest technology which he claimed was the reason for PML-N's flawed understanding of the report.
He said unfortunately the political parties did not have their political [research] wings so that they could help their leadership to understand an issue in depth.
The wing, in its report, provided data of 150 trends that were running on social media networking site-twitter, Fawad said, adding a total of 3.7 million tweets were posted to build an anti-Pakistan narrative.
People of India, Afghanistan and others took part to push that narrative online, he disclosed. He said India did use bot technology to promote anti-Pakistan tweets.
Fawad said the report did not comment on the people living in Pakistan, clarifying that "If someone will be taking part in #SanctionPakistan trending right now on social media and opposing it - then it does not mean that he indulged in an anti-state activity."
The media wing of Pashtun Tahafuz Movement (PTM) had participated in spreading and posting anti-state trends on social media. The data about PTM role in supporting the anti state narrative was included in DMW report which could be analysed by people themselves.
PML-N leadership should better hire the services of any expert to educate them about the contents of report, he said and added that "leaders unfamiliar with technology could also contact ministry's digital media wing that was set up to guide them".
With additional input from APP
COMMENTS
Comments are moderated and generally will be posted if they are on-topic and not abusive.
For more information, please see our Comments FAQ