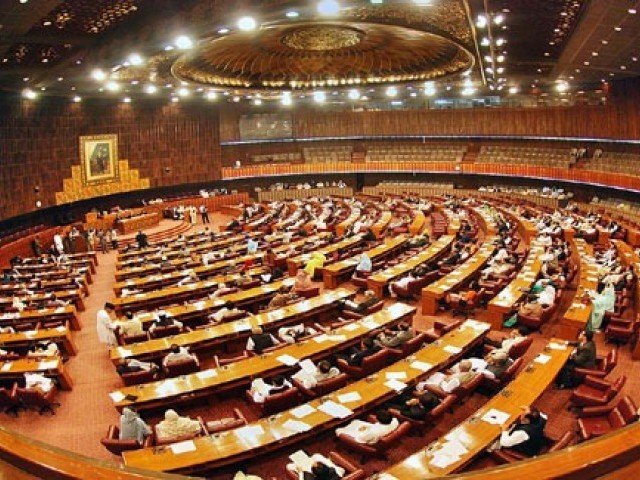 ---
ISLAMABAD:
Members of a Senate panel, from both the treasury and the opposition benches, agreed on Wednesday to giving the right to appeal to the candidates contesting the election of the chairman and deputy chairman of the upper house of parliament.
The Senate Standing Committee on Rules, Procedure and Privileges deliberated on the amendments to the Rules of Procedure and Conduct of Business in the Senate 2012.
The proposed amendment included formation of an appellate forum against the decision of the presiding officer.
A number of proposals are being considered about the amendment to Rule 9 and insertion of the Fourth Schedule in the Rules 2012, introduced by Senator Raza Rabbani in the house last month.
The meeting also discussed the Article 20 that deals with the right to appeal.
The amendment in the article recommended that an appellate forum for appeal against the decision of the presiding officer must consist of three former chairmen Senate, who had held the office during three previous consecutive terms.
Read Senate panel reviews setting up CCI secretariat
The committee members stressed that these former chairmen must not be part of the Senate and that the party affiliations must be toned down. The members were of the view that achieving such stringent criterion would be a cumbersome task.
It was recommended that the conditions for the members of the forum must be broadened, including the Senators known for their stance and stand in the House and those who thought beyond party lines in the greater interest of the country.
Senator Rabbani agreed to the review. He recommended that all members must review the standard of procedure for appeal.
The committee members were of the view that a subcommittee must be constituted to ensure that all recommendations were minutely reviewed before being included.
At the outset of the meeting, chaired by Senator Tahir Bizenjo, the Parliamentary Affairs secretary tendered a written apology over his absence from the previous meeting held on August, 4, 2021.
The chair censured the official to observe etiquettes of the committee.
The meeting was attended by Mian Raza Rabbani, Shaheen Khalid Butt, Irfanul Haq Siddiqui, Liaqat Khan Tarakai, Sarfaraz Bugti, State Parliamentary Affairs Minister Ali Muhammad Khan and senior officers from the parliamentary affairs ministry.
(WITH INPUT FROM APP)
COMMENTS
Comments are moderated and generally will be posted if they are on-topic and not abusive.
For more information, please see our Comments FAQ