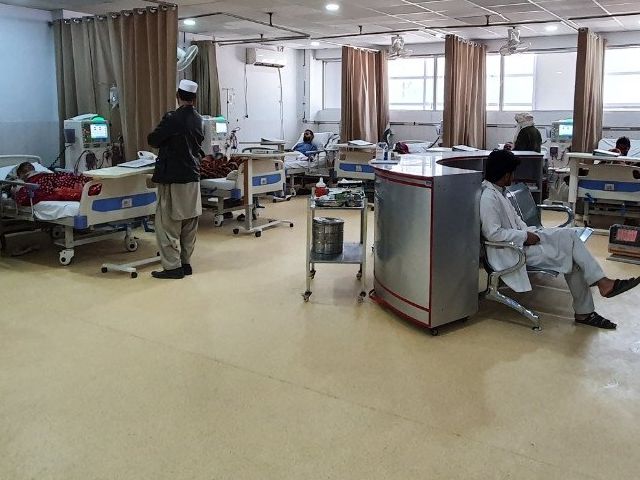 ---
RAWALPINDI:
The Department of Urology and Kidney Transplant at the Benazir Bhutto General Hospital (BBGH) is facing a shortage of staff, electro-medical equipment, and technical support as a large number of patients turn to the facility amidst the conversion of the Rawalpindi Institute of Urology and Kidney Transplant (RIUT) into a coronavirus centre.
At the BBGH kidney centre, five of the 12 staff nurses have quit their jobs while the new recruitment was also banned, which has severely impacted the functioning of the department.
According to sources, the anaesthesia machine at the department of urology is currently out of order and only 16 dialysis machines are functioning which are barely enough to cater to the needs of the growing number of patients.
The shortage of dialysis machines, the irregular functioning of the RO plant due to constant load-shedding and a lack of a backup generator is also affecting the smooth work in the department.
Sources maintained that the department does not even have funds to run its routine matters. At the facility, the lithotripter machine is also out-of-order.
They added that only one patient has undergone a successful kidney transplant operation at the facility while three patients, who had needed immediate transplantation, were referred to the Punjab Human Organ Transplant Authority.
The sources further said that the number of kidney patients in Rawalpindi and its suburbs was on the rise amidst limited kidney transplantation facilities at the BBGH urology department, which is adding to the woes of the patients, most of whom have to opt for expensive dialysis at private hospitals.
Medical specialist Dr Bashir Ahmad Malik said that once dialysis is started, kidney transplantation becomes necessary to get rid of the disease permanently. "As dialysis is a temporary relief, a patient should get the transplantation done as soon as possible," he said.
A kidney dialysis patient, Muhammad Latif, stated that charges for dialysis in government hospitals were low while in private hospitals, it costs around Rs15,000 to Rs18,000 per dialysis.
BBGH Medical Superintendent Dr Nawaz Khokhar informed that the capacity of the urology department in the hospital was very limited. He added that the RIUT should be made functional to provide better treatment facilities to kidney patients.
Dr Khokhar said, "We are trying our best to provide services at the urology department within the limited resources".
RIUT advisor Dr Khalid Randhawa said that the emergency, OPD and dialysis unit at RIUT were about to be made functional but the Covid-19 pandemic ruined it.
Published in The Express Tribune, August 12th, 2021.
COMMENTS
Comments are moderated and generally will be posted if they are on-topic and not abusive.
For more information, please see our Comments FAQ