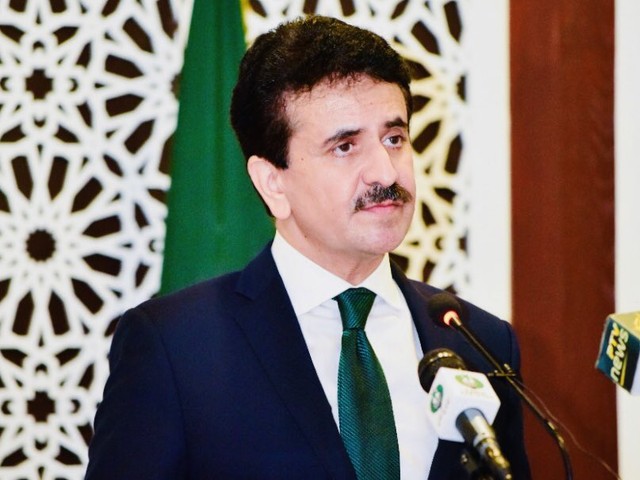 ---
ISLAMABAD:
A top Foreign Office official on Wednesday dismissed the impression that making the Kashmir dispute conditional for resumption of talks with India would lead to a deadlock, as the human rights crisis worsened in Occupied Jammu and Kashmir.
"Pakistan will take every possible step to save the lives of innocent Kashmiris suffering unabated violence in Indian Illegally Occupied Jammu and Kashmir," spokesperson Zahid Hafeez Chaudhri told reporters in response to their queries on the foreign policy narrative at the APP headquarters.
He said the relationship between Pakistan and India had always been "difficult"; however, he stressed that Pakistan desired "peaceful relations with all countries, including India".
He mentioned in this regard Pakistan's recommitment to the 2003 ceasefire arrangement at the Line of Control with India in February, terming it a step towards peace and stability aimed at resolution of core issues, including Kashmir.
Chaudhri said Pakistan was effectively highlighting at the international level three dimensions of the Kashmir dispute – legal, humanitarian, and security.
"Seventy years on, Pakistan's stance on Kashmir remains consistent; however, India for multiple times has deviated from its position – from denying its pledge with the United Nations Security Council to the latest unilateral and illegal step of August 5, 2019," he said.
He highlighted India's involvement in subversive activities in Pakistan, saying Pakistan shared with the international community a dossier with evidence. However, India continued with its approach to blame Pakistan without any solid proof, he added.
The journalists from APP bureaus participated in the interactive session with FO Spokesperson Zahid Hafeez Chaudhri via video link.
On balancing relations with the United States and China, he said, "our relations with one country should not be seen at the cost of another country."
He said Pakistan enjoyed convergence of views with the US on diverse matters, including Afghanistan, climate change, region, and economy.
With China, he said, it was not merely a relationship, but a "partnership based on trust and communities".
"We have 'stand-alone' relations with both countries, but our decisions, in any case, will be made in national interest," he said.
Pursuing the vision of regional economic integration, he said Pakistan's relations with Russia had witnessed a "shift" with a mega Pak Stream gas pipeline project in the offing.
Asked on alternative routes to Central Asia through other countries including Iran, he said factors such as political will, economic dimension, and security situation would be decisive in this regard.
Read Pentagon chief wants to 'improve' Pak-US ties
Meanwhile, Foreign Office spokesperson Zahid Hafeez Chaudhri categorically rejected the unsubstantiated media reports, alleging Pakistan cracking down on overseas dissidents, saying Pakistan as a parliamentary democracy protected the rights of its national living anywhere in the world.
In response to media queries regarding baseless allegations of Pakistani institutions cracking down on overseas Pakistanis, the spokesperson said, "There is no question of any threat being made to any national of any state including Pakistan's own nationals living anywhere on any pretext whatsoever."
The FO spokesperson said the unsubstantiated allegations appeared to be part of the rather blatant ongoing misinformation campaign against Pakistan to malign the country and its state institutions.
"Pakistan is a parliamentary democracy with a vibrant civil society, free media, and independent judiciary, which remains fully committed to the promotion and protection of human rights for all its citizens without discrimination," he said.
He expressed the country's strong commitment to the right to freedom of opinion and expression, which he said, was demonstrated by the presence of scores of vibrant media channels and newspapers in the country.
"Provision of a platform for the peddling of unsubstantiated and false narratives against Pakistan by any news outlet is indeed regrettable," he said.
COMMENTS
Comments are moderated and generally will be posted if they are on-topic and not abusive.
For more information, please see our Comments FAQ