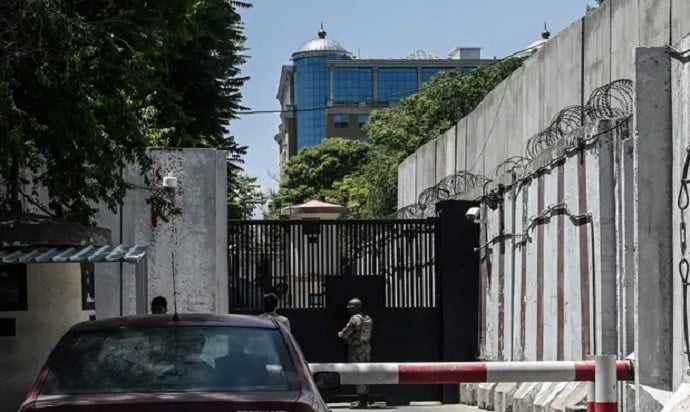 ---
Due to worsening 'security conditions', the US Embassy in Afghanistan on Saturday urged US citizens to immediately leave the country.
A statement released by the Embassy asked citizens to 'immediately use available commercial flight options' for their departure, adding that 'security conditions and reduced staffing' have limited their ability to assist US citizens in Afghanistan.
"The US Embassy can provide a repatriation loan for US citizens who cannot afford at this time to purchase a commercial ticket to the United States", the Embassy stated.
It further advised US citizens to contact American Citizen Services Unit at [email protected] for more information.
On April 27, the Department of State ordered US government employees, whose functions could be performed elsewhere, to depart from the US Embassy in Kabul "due to increasing violence and threat reports in Kabul".
The diplomatic mission also asked US citizens to "enroll in the Safe Traveler Enrollment Program to receive security updates" and be notified in the event of an official evacuation flight.
However, the mission emphasised evacuating Afghanistan using the earliest possible commercial flights instead of relying on US government flights.
Read: UN says Afghan war has entered 'deadlier and more destructive phase'
The travel advisory for Afghanistan remains at "Level 4-Do Not Travel" because of "crime, terrorism, civil unrest, kidnapping, armed conflict, and COVID-19".
The statement further said that domestic flights and ground transportation routes outside of Kabul are severely limited and subject to cancellation or closure.
"Information about current travel restrictions worldwide can be found on the International Air Transport Association website".
In recent weeks the Taliban have captured districts across Afghanistan and seized vital border control points, as Washington withdraws its last troops after 20 years.
The surge has raised the prospect that the group could return to power. Millions of people fled the extreme violence during their last period of rule from 1996-2001, when they staged public executions of their foes, banned women from work and education, and hosted Osama bin Laden's al Qaeda network.
COMMENTS
Comments are moderated and generally will be posted if they are on-topic and not abusive.
For more information, please see our Comments FAQ