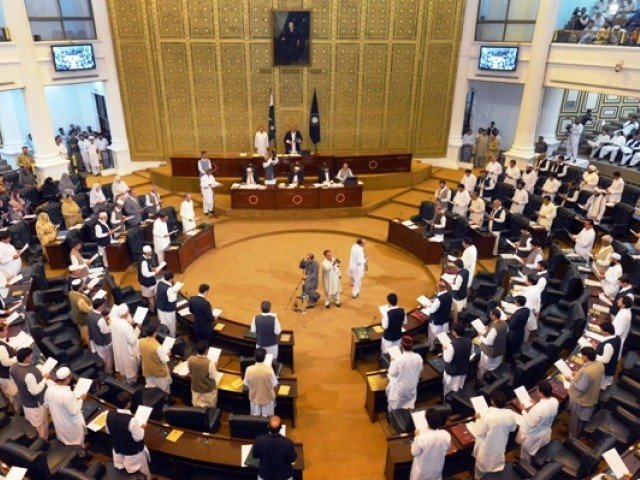 ---
PESHAWAR:
Khyber-Pakhtunkhwa Assembly on Friday unanimously passed a resolution against the temple attack in Rahim Yar Khan district of Punjab.
The resolution was tabled by minority MPA Ravi Kumar. He said that the attack was condemnable and vandalizing the temple was indeed unfortunate. He demanded the arrest of those behind the assault, adding that Pakistan was made up of people belonging to all religions. Talking on the occasion Special Assistant to CM on minority affairs, Wazir Zada said that PM Imran Khan had already taken notice of the incident and he himself was looking after the case. He said that the Supreme Court of Pakistan had also ordered the arrest of the accused behind the attack.
Polio issue was also raised at the session after which opposition and treasury benches agreed to adopt a common strategy for stamping out the crippling disease.
MPA Nighat Orakzai submitted a call attention notice and said that Polio was spreading rapidly. Polio virus had been found in sewerage lines in Larama and Shaheem Muslim Town Union Council and these lines were also spreading hepatitis. She said that it was unfortunate that the K-P was yet to be made polio free. MPA Sardar Hussain Babak said that it was really mysterious that polio workers were a target in K-P only as five attacks have been registered in 15 days. He said that temperature was not maintained during vaccination for jabs.
MPA Naeema Kushwar said that in 2002, Polio elimination was being discussed and it is still the case that the forming of committees were debated. She said that in 2017, the polio cases dropped but afterwards there was an increase. Maulana Lutfur Rehman suggested a united stand on national issues.
Published in The Express Tribune, August 7th, 2021.
COMMENTS
Comments are moderated and generally will be posted if they are on-topic and not abusive.
For more information, please see our Comments FAQ