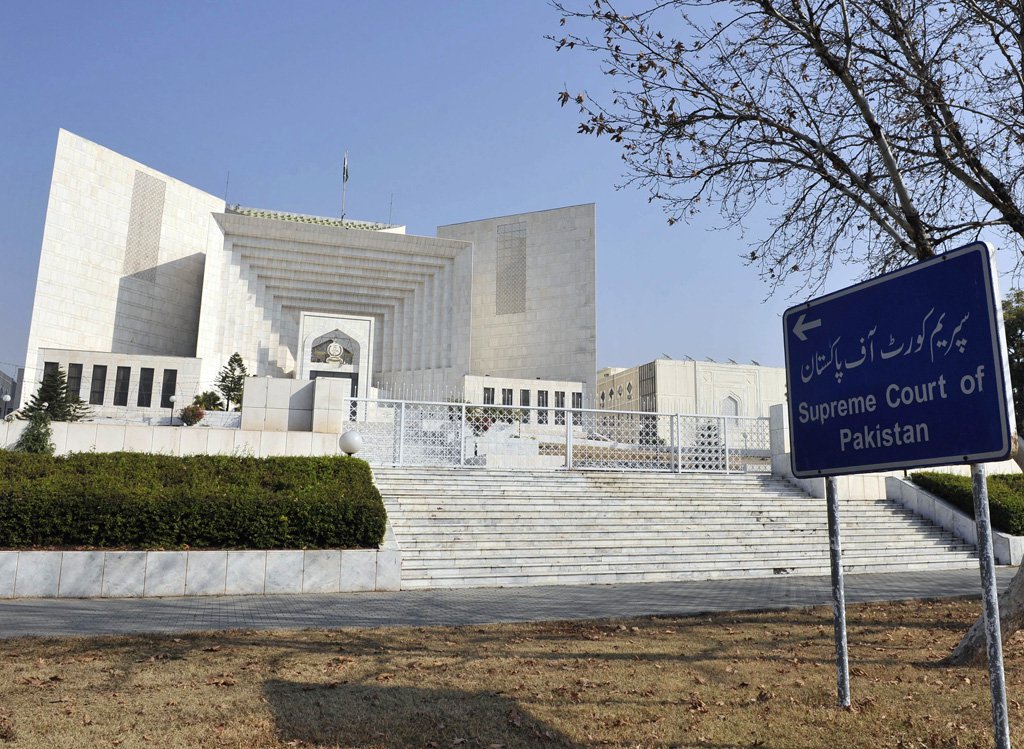 ---
ISLAMABAD:
At its last meeting, the Judicial Commission of Pakistan (JCP) was informed that Sindh High Court (SHC) Chief Justice Ahmed Ali Sheikh has not written any reported judgment in the last three years due to his administrative responsibilities.
The JCP on July 28 nominated a junior SHC, Justice Muhammad Ali Mazhar, to the Supreme Court with a vote of 5 to 4 amid a protest by the apex regulatory body of lawyers, the Pakistan Bar Council (PBC), which objected to ignoring four SHC judges including Justice Sheikh who are senior to Justice Mazhar.
The minutes of the JCP meeting, available with The Express Tribune, have revealed some interesting observations made by some JCP members.
The most interesting comments came from senior SC judge Umar Ata Bandial supported Justice Mazhar's elevation to the Supreme Court while presenting arguments against elevation of other senior most SCH judges Chief Justice Ahmed Ali Sheikh and Justice Aqeel Ahmed Abbasi.
Justice Bandial pointed out that the SHC chief justice had not written any reported judgment in the last three years because of the burden of administrative work. "The commission cannot overlook a deficiency nor relax the criteria for nominating a permanent judge to the Supreme Court," he said.
He said the SHC chief justice deserves to be given a chance to be elevated to the SC for many reasons including the fact that he is an ethnic Sindhi. "He can focus on work here (the SC) to meet the criteria for appointment on any of three vacancies from Sindh arising in the next six months," he said.
He also claimed that the current situation at the SHC has affected Justice Abbasi's temperament as Justice Abbasi is unhappy with the existing situation at the court.
"There were 6,000 tax cases pending in which stay orders regarding recovery of tax had exceeded six months. The SHC CJ constituted a division bench which decided those cases within a short time.
"This was disliked by Justice Abbasi, maybe rightly. However Justice Abbasi chose to make adverse comments in the court. One of our rules is that tolerance must be practiced every day. However, there is no complaint about Justice Muhammad Ali Mazhar's temperament," said Justice Bandial.
He said the SC focuses on the temperament of a judge as pressure of work, lengthy hearing and the complexity of matters require the judges to have a temperament that allows good hearing.
"In all these aspects, Justice Muhammed Ali Mazhar is an excellent candidate," Justice Bandial said.
He said data is available regarding disposal of cases by five senior SHC judges.
According to the data presented by the SC Research Cell, the maximum [111] reported judgments in constitutional jurisdiction were delivered by Justice Abbasi and Justice Mazhar. Further 195 out of 259 reported judgments by Justice Abbasi were detailed judgments deciding questions of law.
Justice Bandial said he has greatest respect for Justice Abbasi as he is a judge of competence and integrity and a wonderful man.
Justice Maqbool Baqar while opposing the nomination of Justice Mazhar noted that when four SHC judges are superseded then reasons should be given in this regard. He said some members of the bar are of the view that Justice Abbasi is better than Justice Mazhar.
"If Justice Abbasi is not better then he has the same level of intellectual capacity, performance and conduct." Justice Baqar said he had some reservations with regard to the nomination of the SHC chief justice. However, an ethnic issue has sparked in the local bars, therefore, the JCP should be careful.
Read Divided JCP nominates SHC judge to SC
Regarding disposal of cases, Justice Baqar said disposal of cases by Justice Abbasi is the highest, followed by Justice Irfan Saadat Khan and the SHC chief justice
Justice Baqar said Justice Abbasi adjudicated multifarious cases refuting the impression that he has worked in a specific field. "It will not be fair for Justice Mazhar to elevate him before becoming chief justice of the SHC. If the nomination is approved then it will have far reaching effects."
Attorney General for Pakistan (AGP) Khalid Javed Khan said the Supreme Court Bar Association case does not mandate that seniority must be ignored but it says seniority is not the only determining factor.
He said seniority cum fitness principle does not apply here but in civil service and armed forces but the presumption comes with seniority that there is legitimate expectation of the senior most people. He said there is a constitutional scheme where the chief justice initiates nomination as head of the family.
He said as the CJ makes a recommendation, he [AGP] attaches maximum deference with the head of family and fully supports the nomination unless there are compelling reasons
The Pakistan Bar Council representative Akhtar Hussain opposing the nomination suggested that matter be deferred for the time being as he wanted to take the bar leaders into confidence.
He said once another SC judge retires, the JCP should nominate two SHC judges to the SC simultaneously. He said Justice Mazhar's nomination is going to cause confrontation among institutions.
Earlier, Chief Justice of Pakistan Gulzar Ahmed said he nominated Justice Mazhar in view of a 2012 SC judgment. Nomination was made in consultation with senior puisne judge Mushir Alam.
Justice Qazi Faez Isa opposed the nomination and said the nominee is fifth in seniority and his elevation is not justified. He said the nominee has not authored a single judgment which could be considered for his elevation. He said no shortcoming regarding four senior judges has been pointed out.
He said the nominee would be penalized in case of elevation as he would lose the chance to become SHC chief justice. He said there is heartburn among senior judges who have been superseded and by doing so "we are not doing a favour to the institution".
"We need to tell reasons to those who are being superseded," he added.
Earlier, Justice Isa also objected to the JCP meeting. He said the agenda was decided in an earlier meeting and the decision was made out by majority. "Once a decision is made then it is not open to the Chief Justice of Pakistan being the JCP chairman to hold meeting on the same subject."
He said the last JCP meeting on July 13 continued for four hours but the minutes of the meeting comprised one line. He said he had also opposed the nomination of Justice Aminuddin Khan to the SC as he lost the opportunity to become the Lahore High Court chief justice.
COMMENTS
Comments are moderated and generally will be posted if they are on-topic and not abusive.
For more information, please see our Comments FAQ