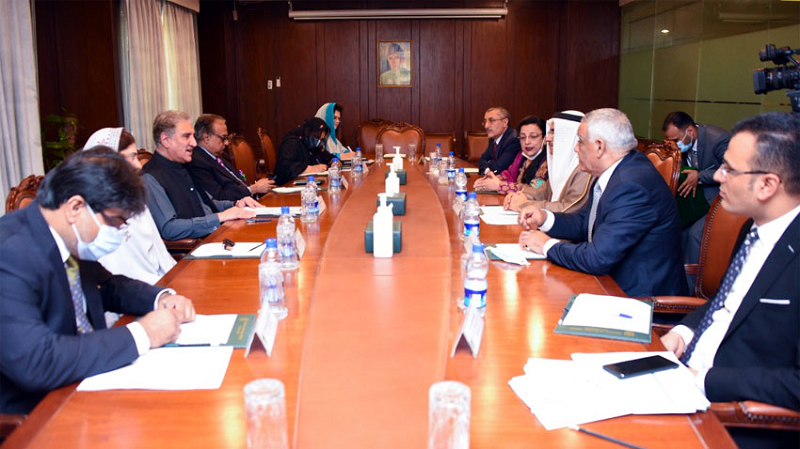 ---
Arab Parliament delegation led by its President Adel Abdul Rahman Al Asoomi called on Foreign Minister Shah Mahmood Qureshi and appreciated Pakistan's role for Muslim causes.
"This is the first-ever visit of a delegation from the Arab Parliament," the Foreign Office said in a statement issued on Monday.
The foreign minister extended a warm welcome to the visiting delegation and exchanged views on key issues related to the Muslim Ummah.
He added that the shared bonds of faith, culture and common aspirations generated natural affinity between the peoples of Pakistan and the Arab world.
FM Qureshi apprised the delegation about the serious human rights situation in Indian Illegally Occupied Jammu and Kashmir (IIOJK).
Also read: Arab parliament speaker in Pakistan on maiden visit
He stressed the importance of peaceful resolution of the Kashmir dispute in accordance with the UN Security Council resolutions and the wishes of the Kashmiri people.
Foreign Minister Qureshi also reaffirmed Pakistan's principled position on the Palestinian issue, stressing the need for a solution as per the UN and the OIC resolutions, the communique read.
He further stressed the importance of peace and stability in the Middle East for Pakistan.
The president of the Arab Parliament thanked the foreign minister for receiving the delegation.
Al Asoomi appreciated the role Pakistan has played for the Muslim causes and also stressed the need for establishing more parliamentary linkages for a better understanding of the issues.

During the meeting, the two sides underscored the need for a collective approach by the Muslim Ummah to help resolve political, social and other issues confronting the Muslim nations, the FO statement added.
COMMENTS
Comments are moderated and generally will be posted if they are on-topic and not abusive.
For more information, please see our Comments FAQ