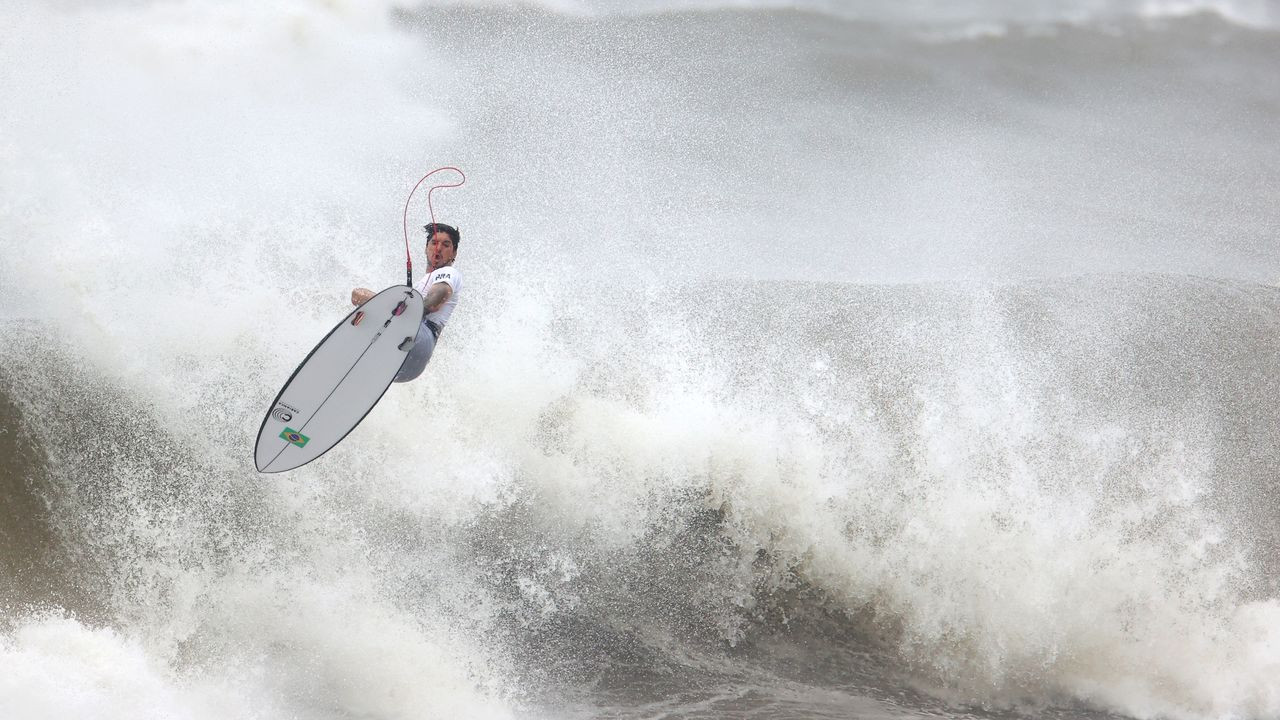 ---
TOKYO:
Japan's Kanoa Igarashi shocked surfing world number one Gabriel Medina on Tuesday, landing a stunning aerial move to beat the Brazilian in the Tokyo Olympics semi-finals.
Igarashi looked to have little hope of catching Medina with just over six minutes left of their 30-minute contest, with the gold-medal favourite leading after a typically audacious manoeuvre.
But home favourite Igarashi went one better, launching himself into an aerial 360 that he landed to score a whopping 9.33 -- enough to leapfrog Medina for a place in the final.
"In the air, I felt like I was coaching myself through it -- I felt my heart and my lungs and just braced for landing. I felt like I was a gymnast more than a surfer," said Igarashi.
"As soon as I landed it, I knew it was the biggest moment of my career."
Igarashi will face Brazilian Italo Ferreira in the final later Tuesday, after organisers moved medal events forward a day to capitalise on waves whipped up by an approaching tropical storm.
In the women's final, American world number one Carissa Moore will take on Bianca Buitendag, after the unheralded South African upset Caroline Marks of the US in the semi-finals.
Igarashi almost did not make it after Medina took a seemingly impregnable lead with a daredevil move that he celebrated with an impudent shoulder shrug.
"I was just surprised I got an opportunity," said Igarashi, whose father grew up surfing on the same beach, around 100 kilometres (60 miles) east of Tokyo.
"I went for as big of an air as I could and landed it. That was a pretty crucial moment."
Ferreira, the 2019 world champion, beat Australia's Owen Wright in the second semi-final.
Igarashi kicked off the day by eliminating Kolohe Andino, the last American left in the men's competition, and the US suffered a further blow when Marks lost to Buitendag in the women's semi-finals.
The South African -- seeded 17 out of 20 surfers -- had already bundled out Australian seven-time world champion Stephanie Gilmore on Monday.
And the giant-killer claimed another scalp when she toppled world number six Marks.
"Still the underdog -- not much has changed," said Buitendag.
"A lot of things are falling into place, all at the same time. I don't believe in luck, so I guess there's some sort of plan here and I'm yet to see how it turns out."
Moore beat Japan's Amuro Tsuzuki to join Buitendag in the final.
"I think the thing that's the most difficult about these kind of conditions is there's no defined peak," said Moore.
"There's no one spot that all the waves are coming in, so it's very random. Just having so much out of your control can be very difficult at times."
COMMENTS
Comments are moderated and generally will be posted if they are on-topic and not abusive.
For more information, please see our Comments FAQ