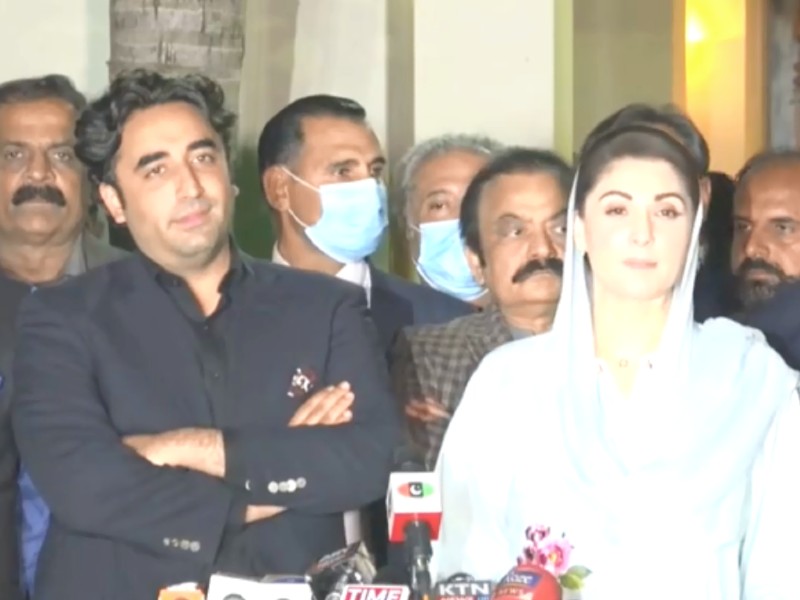 ---
ISLAMABAD:
Pakistan Peoples Party (PPP) Chairperson Bilawal Bhutto Zardari and Pakistan Muslim League-Nawaz (PML-N) Vice President Maryam Nawaz on Monday rejected the results of the Kashmir polls, alleging that the elections were rigged.
In a tweet, the PML-N de facto leader threw results of the violence-marred contest into a new chapter of acrimonious allegations, echoing the alarms she had sounded regarding "rigging attempts" during her election campaign across the state. Maryam solemnly said she has not accepted the results and will never accept them.
"I did not accept the 2018 results either or acknowledge this fake government," she added.
In another tweet, she lauded the party workers for "putting up a good fight despite violence and rigging". Maryam also hinted at her party's deliberation to come up with an official move on the matter. "What response we will come up with for this shameless rigging, is a matter that the party will decide soon, InshaAllah."
Read PTI set to form next AJK govt after clinching most seats
"I would like to commend all the voters and workers of PML-N for their courage and bravery. I am very proud of them," she added.
Meanwhile, PPP leader Bilawal Bhutto alleged the election commission had failed to take action against the PTI for violating electoral rules.
"Despite this, PPP emerged as the largest opposition party in AJK with 11 seats, up from 3 seats last time. incredibly proud of PPPAJK for putting up a good fight," the PPP leader tweeted with a list of the party's winning candidates.
Prime Minister Imran Khan's PTI emerged as the single-largest party after clinching at least 25 out of 45 seats in Azad Jammu and Kashmir (AJK) elections, according to unofficial results on Monday.
PPP came in second with 11 seats while the PML-N bagged six seats.
According to the unofficial results, the turnout was recorded at around 62pc. More than 700 candidates from 32 political and religious parties contested for the 45 general seats.
COMMENTS
Comments are moderated and generally will be posted if they are on-topic and not abusive.
For more information, please see our Comments FAQ