 ---
Pakistani weighlifter Talha Talib fell just two kilograms short of history at the 2020 Tokyo Olympics as he lifted a total of 320 kilograms on Sunday.
Talha was representing Pakistan in weighlifitng's 67kg event at the pandemic-postponed Games, where he lifted 150 kilograms in snatch and 170 kilograms in clean and jerk to accumulate a total of 320 kilograms.
The 21-year-old weightlifter from Gujranwala held the gold medal spot until the final round, in which he was demoted to the fifth position in his weightlifting category. But Pakistani celebrities are honouring Talib, whose performance may not have won him a medal but won him the title of the 'national hero' for many on social media.
Mahira Khan took to Twitter for Talib and wrote, "You've made us all very very proud!" alongside a picture of him from the Olympic Games.
Asim Azhar added, "Girte hain shahsawar hi maidan-e-jung mai…you stood up and made the whole nation proud."
Yumna Zaidi chimed in on the micro-blogging site, "you won our hearts."
Singer and song-writer Fakhre Alam tweeted, "From the soil rises another. So close yet so far away. Proud of you."
Cricketer Shoaib Malik also congratulated Talib tweeting, "We are proud of you Champ, keep your head high!"
Hira Mani shared a photo of Talib on her Instagram Stories and thanked him on behalf of the whole nation.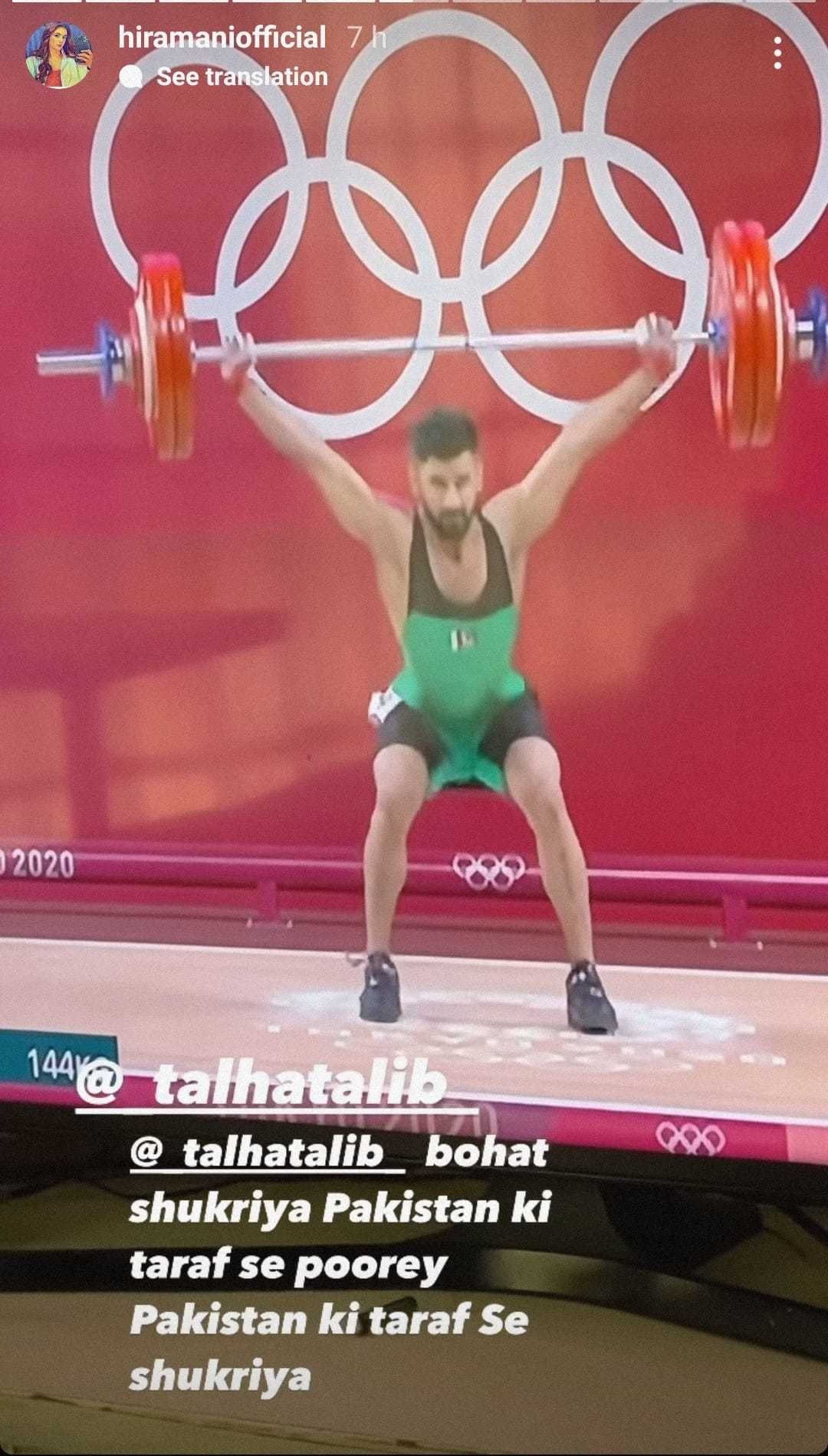 While Azfar Rehman simply shared Talib's achievement on his Stories and tagged him.
The fourth-placed participant from South Korea lifted 321 kilograms, while the Marko Zanni of Italy bagged bronze with a total lift of 322 kilograms -- 145 in snatch and 177 in clean and jerk.
Colombian Luis Javier Mosquera won silver with with a total lifted weight of 331 kilograms, while Chinese Chen Lijun won gold with a total lifted weight of 332 kilograms.
Have something to add to the story? Share it in the comments below.
COMMENTS
Comments are moderated and generally will be posted if they are on-topic and not abusive.
For more information, please see our Comments FAQ